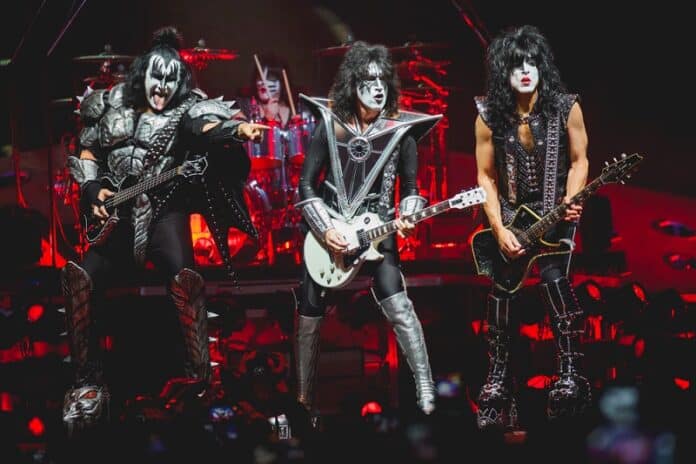 After a long time of battling and bidding, it now appears that Netflix have agreed a deal to showcase the upcoming documentary for KISS. The biopic is set to be called "Shout It Out Loud".
This is also potentially good news for Netflix who yesterday said that a decrease in new shows and films being produced due to restrictions has contributed to a decrease in subscriber growth for the streaming service, despite an early boom during lockdown.
You can find out more about that report here.
KISS' Biopic 
The biopic is set to be driven by stories around the formative years of leaders Gene Simmons and Paul Stanley. It will explore the pair's stories as two misfit kids in the New York Borough of Queens. It will also explore how the duo's unlikely friendship led to the band KISS being formed.
The band was formed alongside Peter Criss and Ace Frehley.
The biopic is said to also capture the lives and legacy of the band. It is to be directed by Norweigan filmmaker Joachim Ronning, while Ole Sanders is responsible for the script writing.
"Better than religion"
One story to be mentioned in this, is Simmons as a 12 year old Hasidic Orthodox Jew. It was then that Simmons discovered a "new faith" that was in his words "better than religion". It was at this point that Simmons left the Jewish educational education, the yeshiva.
"I remember walking out onto the street, seeing this Spanish girl jumping rope across the street, and staring at her long black hair slapping against this great butt", Simmons once remarked. "It occurred to me this was better than religion. How could I get near that?". 
At the height of the band's success, Paul Stanley was considered the sex symbol for KISS. He recalled the day he found his own "new faith".
 "I was deaf in one ear and had a slight deformity that made me look different", Stanley began. "I was this short, fat kid, and music became my salvation, a place to hide and dream. And when I played music, there were always girls around". 
Last month, Paul Stanley also revealed how he came up with the band's name KISS. He said, "it was the kind of name where a word like that, you would go, 'Oh, I've heard of KISS'". Read more on that story here.