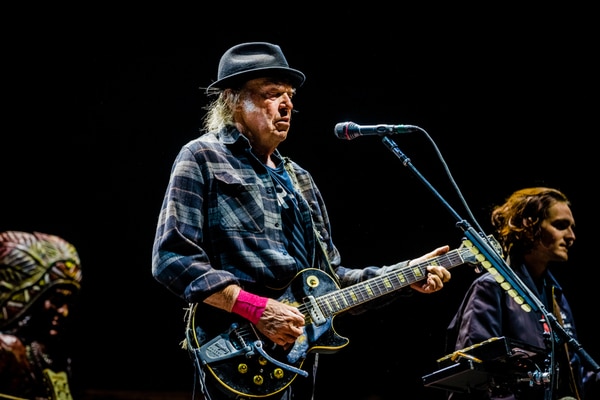 Neil Young has released several statements which state that he will lose 60 per cent of his income, following his removal from the streaming service Spotify.
Young had asked Spotify to remove his music "immediately", after he accused the streaming service of "spreading false information" about Covid vaccine on some podcasts including Joe Rogan.
The singer has since released two statements after Spotify granted his request to be removed from the site.
"Spotify: In The Name Of Truth"
Young released these statements, one titled "Spotify: In The Name Of Truth" and the other was called "Thanks For Standing With Me". 
The statements were published on Young's archives site yesterday.
In his first statement, Young thanked his record label Warner/Reprise. He also thanked his publisher Hipgnosis for their support and work which led to his removal from Spotify.
"I announced I was leaving anyway, because I knew I was", he said.  "I want to thank my truly great and supportive record company… for standing with me in my decision". 
His statement also claims that he will lose 60% of his streaming income due to his Spotify departure.
Despite conceding that this will be a "huge loss", Young also thanked his record label for, "recognizing the threat [that] the COVID misinformation on Spotify posed to the world".
He also wrote, "Thank you Warner Brothers for standing with me and taking the hit – losing 60% of my world wide streaming income in the name of truth". 
"Thanks For Standing With Me"
Young's second statement was similar to his first. The singer once again thanked Hipgnosis and Universial who have overseen five of his 41 studio albums released due to a record deal with Geffen in the 1980s.
"I am very happy with their support", Young continued. "I want to personally thank Merck [Mercuriadis, Hipgnosis founder] and Hipgnosis for standing with me. [This is] a costly move, but worth it for our integrity and beliefs". 
He also paid tribute to Universial executives Bruce Resnikoff and Michele Anthony for "the conscience". "I truly appreciate your help and support", the singer concluded.
Young had confirmed his intention to leave the streaming service last week.