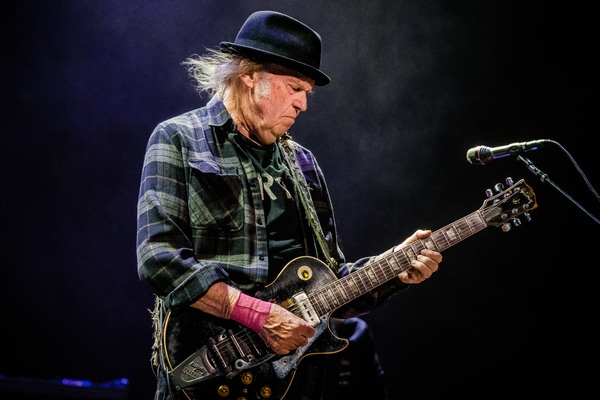 Neil Young has given his fans a special Christmas surprise by releasing an eight-song archival album.
The album, titled Summer Songs, was recorded by Young in 1987 at the Broken Arrow Ranch in Redwood City, California. The singer/songwriter is believed to have played every instrument on the recording and it's unclear if any other musicians were involved.
Young teased the release of Summer Songs in a blog post from November, in which he confessed being unable to remember recording the tracks.
The eight tracks featured on Summer Songs are American Dream; Last of His Kind; Someday; For the Love of Man; One of These Days; Wrecking Ball; Hangin' on a Limb; and Name of Love.
Most of the tracks would ultimately find their way onto subsequent Young albums. American Dream and Name of Love would appear on Crosby, Stills, Nash & Young's 1988 album American Dream. Someday, Wrecking Ball and Hangin' on a Limb found their way onto Young's 1989 album Freedom. One of These Days appeared on 1992's Harvest Moon. For the Love of Man would end up on the 2012 Neil Young & Crazy Horse album Psychedelic Pill.
As Young has pointed out, several of the lyrics on the Summer Songs demos are "significantly different from their subsequent master album releases." Some of the tracks feature "completely new and unheard verses."
"It is a beautiful listen, created over a short period of time, that influenced four albums," Young said of the archival album.
Summer Songs marks the first release from Neil Young Archives Volume III. It follows last year's Volume II, which saw Young releases previously unheard recordings made between 1972 and 1976. This included the unheard album Homegrown, recorded across 1974 and '75.
You can stream the entirety of Summer Songs in the player below.
Young released Barn, his 41st studio album and 14th with Crazy Horse earlier this month to positive reviews.
For the moment, Neil Young fans will have to make do with his recorded output as he has said he won't resume touring until COVID is "beat."
Speaking to Howard Stern earlier this month, Young said he wouldn't play "to a bunch of people with no masks on."
"I don't care if I'm the only one who doesn't do it," he said.
"People are not being realistic and they're not being scientific," Young continued. "If we followed the rules of science, and everybody got vaccinated, we'd have a lot better chance."
Young is confident science will ultimately beat the pandemic however.
"We got a lot of smart people in the world with a lot of great ideas," he said. "And the more love there is in the world, the more we're gonna hear those ideas. We're gonna make this happen."