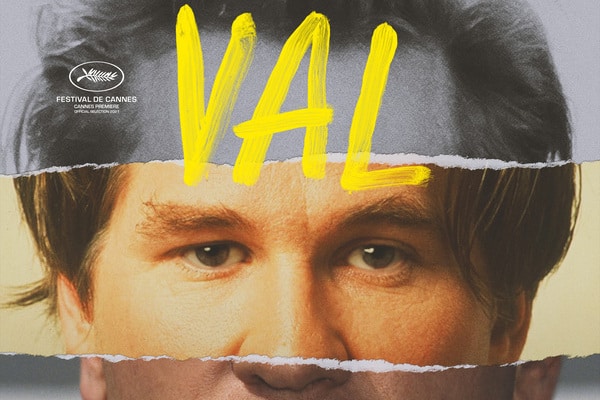 A documentary premiering at the Cannes Film Festival this week tells the story of actor Val Kilmer.
"I was the first guy I knew to own a video camera," Kilmer says in the trailer for Val. For over 40 years Kilmer has documented the ups and downs of his life on video. "I have thousands of hours of videotapes and film reels that I have shot throughout my life," he claims. Now with the collaboration of directors Ting Poo and Leo Scott, that archive of home movies provides the basis for a feature length documentary.
Kilmer was inspired to assemble his footage into a documentary by his deteriorating physical condition. In 2017 the actor revealed that he had been diagnosed with throat cancer three years earlier. As a result of multiple surgeries, Kilmer now finds it difficult to speak, which has had a negative impact on his career.
Footage in the documentary ranges from childhood home movies to behind the scenes moments from movies like Top Gun, The Doors, Tombstone, and Batman Forever. Kilmer tells his story through voiceover narration penned by himself but spoken by his son Jack.
Speaking about the 800 hours of footage Kilmer presented him with, director Ting Poo said "It was gold, like a treasure trove you're lucky to come across in your career."
The documentary began to take shape while director Leo Scott was collaborating with Kilmer on the actor's passion project, a one-man show about the life of Mark Twain. While working with Kilmer, Scott began transferring his archive of video footage to a digital format. When plans to turn Kilmer's Mark Twain show into a movie collapsed following his cancer diagnosis, Scott got in touch with Poo about turning the footage into a documentary.
"You got the sense from the material that he was knowingly, wisely, gathering some of these things for a bigger story one day," Scott said of the footage. "The more of it you get to see, the more you understand who he is now."
Kilmer's quest to bring his Mark Twain show to the screen is heavily chronicled in the documentary, which goes all the way back to the star's childhood. As a child, Kilmer would "star" in his older brother Wesley's 8mm films. Wesley sadly passed away while Kilmer was still a child. Scott was hugely impressed by the amateur movies of Wesley Kilmer. "His brother was really a budding genius director who probably could have gone on to be one of the greats," he said.
Val then sees Kilmer take his camera to Julliard, where he studied acting as a young man. Footage is presented from backstage at his 1983 Broadway debut alongside Sean Penn and Kevin Bacon in 'Slab Boys'. Kilmer's experiences in Hollywood are presented warts and all, from his friendship with Tom Cruise on Top Gun to his rivalry with Marlon Brando on the troubled The Island of Dr. Moreau.
Val will be released on Amazon Prime Video on August 6th.