This Wednesday at Macca's they are cleaning up their act while introducing five new permanent items to the menu, as well as the return of some old favourites.
There is a new Chicken Salad which comes in a choice of crispy (265 calories) or the new and improved grilled chicken (133 calories) with a balsamic dressing.
As well as lighter lunch options, McDonald's are also going lighter on packaging too – removing all single-use plastic from its salad ranges.  The change will result in 102 metric tons of plastic removed annually. While removing the plastic from the McFlurry packaging will also remove 383 metric tons of plastic annually.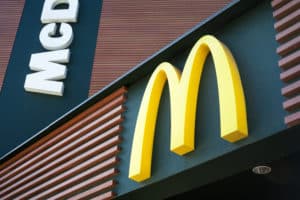 The popular wrap range is expanding too with the new 'The Hot Cajun Chicken One' featuring crispy chicken breast strips or grilled chicken with a Cajun sauce, Pepper Jack cheese, tomato, jalapeño slices and lettuce in a soft, toasted tortilla wrap.
Back by popular demand, the Smarties McFlurry is sure to excite ice cream fans across Ireland. Made with vanilla ice cream, crushed Smarties and chocolate sauce – the iconic flavour will now sit alongside Maltesers and Oreo on the permanent McFlurry menu.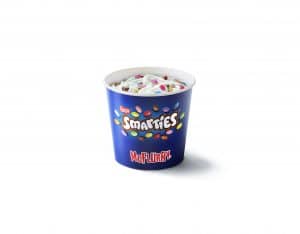 McDonald's is also launching a new Bacon Roll in Ireland. Featuring three rashers of bacon on a sourdough-style bun with a choice of brown sauce or ketchup.
All items will be available from McDonald's Ireland restaurants, McDelivery and Drive-Thrus from today, June 26th 2019.
Macca's will host a series of 'Live Your Best Lunch' events across Dublin, Cork and Galway to celebrate the arrival of the new menu items. The pop-ups aim to encourage people to ditch desk-dining and make the most of their summer lunch hour whilst sampling the new menu free of charge and enjoy activities such as Pound Fit, ukulele lessons and paint classes in the restaurants.