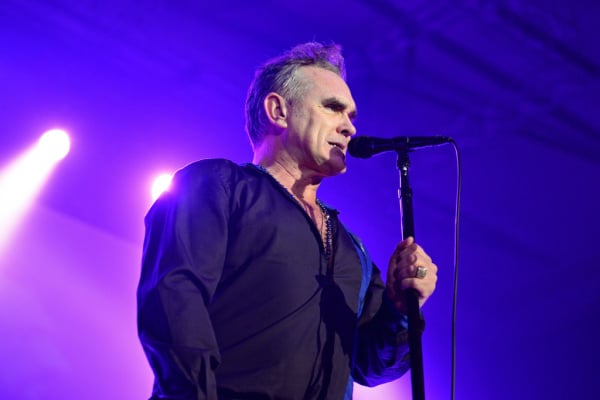 Morrissey has annoounced that his new album 'Bonfire Of Teenagers' will not be released next February.
The former Smiths singer had originally announced the released of this album last year, calling it "the best album of my life".
He also added that he had not been signed to a record label at the time, with 'Bonfire Of Teenageers' "available to the highest (or lowest) bidder", according to the singer
Earlier this month, Morrissey had revealed that the album was to be released in the US via Capitol Records, with artists such as Iggy Pop, Miley Cyrus and Red Hot Chili Peppers to feature on the record.
Chili Peppers' drummer Chad Smith and former singer Josh Klingoffer are to feature on the album.
"no longer scheduled"
However since then, in a statement shared via Morrissey's official website, the singer will no longer be releasing this album in February.
'Bonfire of Teenagers' is no longer scheduled for a February release", the site confirmed.
Capitol Records have yet to comment on the matter.
See the tracklist below.
1. 'I Am Veronica'
2. 'Rebels Without Applause'
3. 'Kerouac's Crack'
4. 'Ha Ha Harlem'
5. 'I Live in Oblivion'
6. 'Bonfire of Teenagers'
7. 'My Funeral'
8. 'Diana Dors'
9. 'I Ex-love You'
10. 'Sure Enough The Telephone Rings'
11. 'Saint In a Stained Glass Window'
On top of this, Morrissey also also been very outspoken on his views regarding Covid-19.
Referring to the pandemic as "Convid", the singer compared society over the past two years to slavery.
"The bigger problem is that nobody can any longer agree with anyone else, and this is the main outcome of Con-vid", Morrissey told his nephew Sam Esty Rayner in an interview shared via his website.
"It has brought the worst out in people, and we weren't ever in this together", Morrissey continued. "We are deprived of seeing and hearing other people, and above all, you want to be with others who see and hear what you see and hear, because this is basic oxygen for the human soul. Take it away and people are dead".
Find out what else he said here.