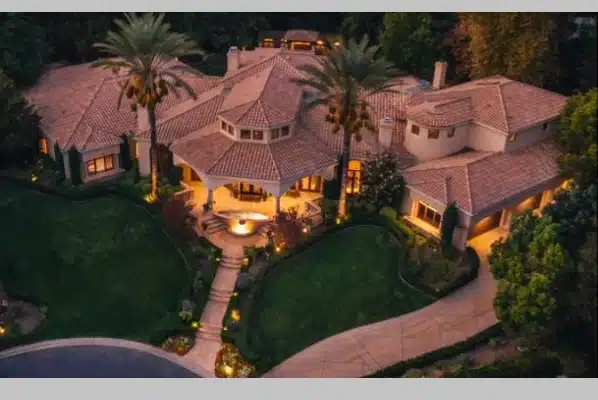 Nikki Sixx' LA estate has sold for a staggering $5.18 million, as reported by The Sacramento Bee. The bassist and co-founder of Mötley Crüe sold his five-bedroom, six-bath home in Westlake Village, California.
The compound, built in 1996, is located inside the guarded gates of the North Ranch Country Club Estates. Spanning 10,300 square feet mansion has an expansive gallery foyer, library, games room, a vast dining room, a formal living room and a family kitchen with dinette. When the mansion went on sale, The Agency listing agent, Emil Hartoonian revealed the estate holds a "lot of favourite features, indeed".
"The most notable (is) its grandeur presence in a largely single-level property," Emil explains. "The scale is impeccable and very inviting while carrying a sincere sense of flow and function."
The first level master suite of Nikki's former mansion features a formal entry with its own private living room and fireplace, a spa, and a grand walk-in closet. With direct access to the grounds, the suite connects to a swimming pool with fountains and a backyard "casita" on 1.2 acres.
According to the official listing, the grounds are "timelessly laced with vast elevation", offering an "unparalleled storybook backdrop for the finest in entertainment and pleasure". It really is a remarkable property of breath-taking proportions and a "beautifully appointed" private office. An incredible, private theatre resides on the second level, along with a lounge "set in a stylish narrative energized with epic honours".
Hartoonian said the "truly epic and tailored" second-level custom theatre lounge in Nikki's LA mansion is a favourite theirs. "The master suite is a true villa getaway, like staying at an exotic resort in Europe. Truly a private compound."
62-year-old Nikki Sixx, lead singer Vince Neil, guitarist Mick Mars, and skinner Tommy Lee, rose to fame in the 1980s with hits including Smokin' in the Boys Room, Girls, Girls, Girls and Home Sweet Home.