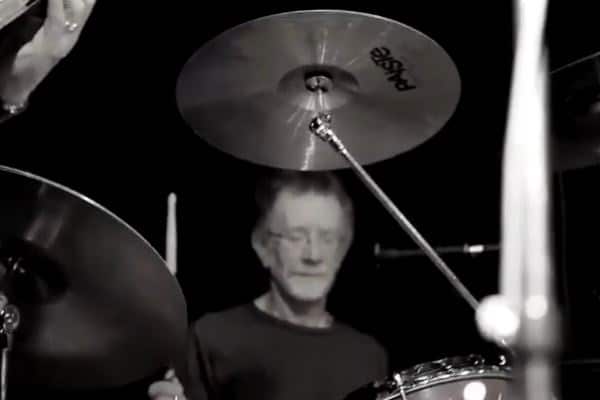 Legendary Irish musician Noel (Nollaig) Bridgeman sadly passed away yesterday, after a short battle with cancer. Noel played drums for Skid Row and recorded with artists like Mary Black, The Waterboys, Van Morrison, Christy Moore and many others.
Emerging from the Irish blues boom in the 1960s, the acclaimed drummer went on to play with Skid Row, who for a time featured Philip Lynott on lead vocals and Gary Moore on guitar. Becoming a much in-demand drummer in both studio sessions and in concert, Noel went on to earn credits for not only his playing skills, but also for singing, and song-writing.
Moving tributes dedicated to the late drummer continue to pour in today, with The Waterboys' Mike Scott, BP Fallon, Joe Jackson, and many more sharing condolences.
BP Fallon – "God bless Noel Bridgeman – not only a great drummer but a beautiful man. From Skid Row and Granny's Intentions to Waterboys to playing on my next album… the road goes on forever. Noel, thank you for the joy you brought, thank you for the miles of smiles. I send you love. BP x"
Mike Scott – "I'm very sorry to say the drummer Noel Bridgeman, one of Dublin's greatest-ever musicians, and a great Waterboy, passed away this morning after a short battle with cancer. He taught me so much. A pioneer, a gentleman and a great spirit. Travel on well, my friend."
Brendan Finglas – "Today I lost my best friend Noel Bridgeman after a short illness, I will always miss you. Rest in peace my friend."
The Waterboys violinist Steve Wickham – "One beautiful soulful cat left us today. Undoubtedly already got a jam going with Philo and Gary, miss ya brother."
Joe Duffy – "I love the man. The best days of my life, musically, were with that man," musician Brush Shiels on the death of his good friend Noel 'Nollaig' Bridgeman who died today."
Frances Black – "I am so sorry to hear that the great drummer & singer  #NoelBridgeman has passed away. I will never forget the first time I heard Noel sing 'Across the Universe' it was mind blowing! my deepest condolences to his family & all who loved him 🌻#sleepwellNoel"
Dr Brian Kennedy – "Wow. I'm also so sorry to hear that. I particularly remember him singing and playing a wonderful version of " across the universe" a great loss. #noelbridgeman"
Pat Coldrick – "Just learned of the passing of a good friend and legendary musician Nollaig Bridgeman. A nicer man you wouldnt meet. Dedicating The Lament in his memory today, may he Rest in Peace."
Eamon Carr – "My brother just shared the awful news of Noel Bridgeman's departure. What a charming, talented and inspirational man. We shared a lot of laughs. And a drum kit! I'll miss Nollaig my friend."
Journalist and podcaster  Joe Jackson also took to Twitter to pay his respects, sharing a photo he took of Noel in the 1970s. He tweeted, "Circa 1970 I was a fan of Skid Row. In 1977 I became one of the first photographers working for Hot Press. I loved taking this shot of Noel Bridgeman, at the Baggot Inn. He has died. RIP Noel".
Noel has credits on many classic songs of The Waterboys and Skid Row, as well as work with Danielle O'Donnell, Clannad, and the Metal Gear Solid original game soundtrack.