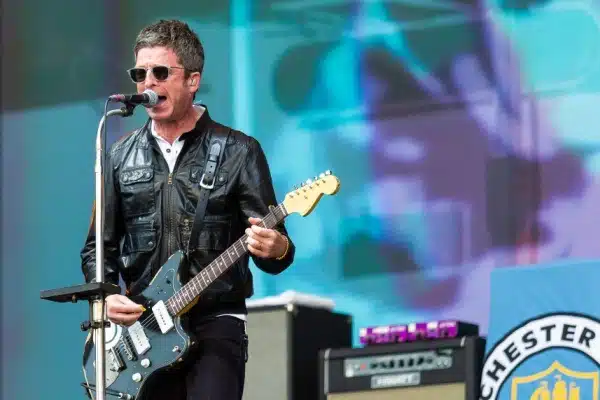 Would you like to listen to the article instead of reading it?
Noel Gallagher has spoken about the stress he felt ahead of Oasis' first ever live show.
In a new interview, Gallagher also revealed that he had only "done a few rehearsals" with the band, before joining their line up in the early 1990s.
"never played guitar standing up"
The songwriter said that he was stressed, as he had "never played guitar standing up".
Gallagher continued, "We were doing one song of mine, which was 'Columbia', but it was instrumental", Gallagher said. "We've got a gig on Tuesday, and it suddenly dawns on me that I've never played guitar standing up. Not only that, I don't own a f****** strap. This is Sunday night. And I'm skint. Never played guitar standing up".
The former Oasis rocker noted the madness of the situation when looking back, "That seems [like a] preposterous f****** notion now. But I can only tell you that the Monday was probably the most stressful f****** day of my entire life".
Gallagher also explained how he had to "borrow a strap", before "going home and putting a guitar on for the first time".
"I'd say [I spent] a good hour looking in the mirror […] And I think where you hold your guitar for the first time is crucial", he added.
"nailed it"
In the end, Noel Gallagher revealed that he "nailed it", explaining how he was "stressing about for 24 hours" beforehand.
He added, "It kind of signifies how much of a c*** you're going to be, because if it's too high, you don't get no fit birds, mate. If it's too low, she gettin' a goth, alright? But if you get it right, you know, the 'Gunslinger'… And I remember looking in the mirror thinking, 'Doesn't look right'".
"Thank f****** God it was before phones and cameras, because there would be some pretty f****** awkward footage of it now. But you know, an exhilarating experience all the same".
Following this show, Oasis went from strength to strength, releasing several number one albums, and a myriad of hits including 'Wonderwall', 'Champagne Supernova', 'Live Forever', 'Supersonic' and others, before splitting up in 2009.
Following their break up, an ongoing feud has ensued between estranged brothers and bandmates Noel and Liam Gallagher, with Noel previously urging Liam to get in touch with him if he was keen to reform the band.
Fans had been calling on Liam Gallagher to reunite the band, after the singer had promised to do so if Manchester City won the Champions League. More on this here.
In more recent news, Noel Gallagher added that he would jump at the chance to form a supergroup with surviving Beatles pair Paul McCartney and Ringo Starr.