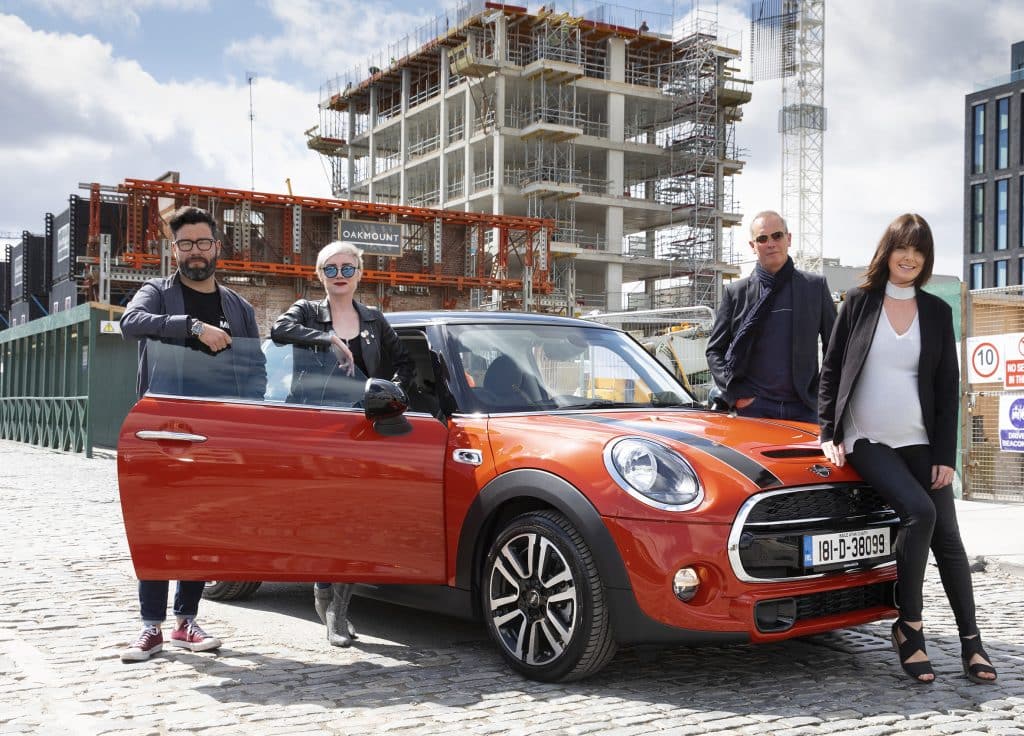 Radio Nova and MINI launched one of the BIGGEST searches for unsigned talent in radio history and it was HUGE! But today, we're introducing you to our finalists!
We're down to just five bands after weeks of judging over 400 entries and hosting two semi-final battles which took place in Tramline over the last two weeks – but alas there can only be one winner.
This Thursday, June 21st will see our four semi-final winners and our wildcard entry, as voted for by you, battle it out for the coveted prize and we're hoping to see you all there – doors open in Tramline at 6.30pm, Ham Sandwich will also be hitting up that stage and it's FREE!
The once in a lifetime opportunity sees a €30,000 prize package up for grabs! There's music equipment, mentoring by leaders in the music industry, a publicist and marketing manager for an entire month and a full week's recording in Orphan studios with producer Gavin Glass.
And not alone that, but your first single will also be pressed, published AND playlisted on Radio Nova!
But first we want to introduce you to five bands who have earned themselves a spot in the final:
https://www.instagram.com/p/Bju16UdAfrp/?taken-by=radionova100
UNCOOL UNCOOL
Uncool Uncool, were formed roughly two years ago when they began practicing covers in Blessington. Jake joined the band after the original drummer left in August.
Since then Uncool Uncool have recorded two more singles and released them on Spotify and iTunes.
They'll be performing Similar Colours and 1977 on the night.
THE SOUTHERN FOLD
Formed in south east Ireland by Kilkenny native Emlyn Holden in 2014 and joined by Dubliner Laura Hand as co-vocalist the following year, The Southern Fold began gigging in earnest performing a number of self-penned songs in the alternative folk/country-blues vein.
Their debut EP, 'A True Ascension from the Wayward Path' was released on April 28th, 2016. At this point, they are putting the finishing touches to the writing of a new album which will hopefully see the light of day in the near future. They are also preparing for some summer gigs including Vantastival and a couple of YouBloom dates.
They'll be performing Home From The War and Hold Back The Sun.
https://www.instagram.com/p/Bj9aHdpgzfc/?taken-by=radionova100
BARNHAM STATEMENTS
Formed in 2016, Barnham Statements is the project of Dublin based songwriter/vocalist Doug Sheridan along with friends/collaborators (Patrick Lyons, Ed Kelly, Gordon Sheridan, John Gillooley, Owen O'Mahony)
Doug's music has been described as a 'heady mixture of Neil Young and Jeff Buckley with soaring vocals & evocative lyrics' by Hotpress.
His songs have appeared on many TV/Film projects including 'Love/Hate', 'Rubai', 'From The Dark' as well as U.S hit show 'iZombie' and most recently his song was used by Sonnet Insurance an extensive TV ad campaign in Canada.
They'll perform Hook You To My Veins and After All.
INSIDE A WAVE
Dublin based five piece INSIDEAWAVE craft a melodic Indie driven sound with nods to contemporaries such as Grizzly Bear, Radiohead and Bell X1. The band formed in 2017 and comprises of Eoghan McGuinness, Mark Geraghty, Nick Fitzgerald, Sean O'Brien and Matt Winston. Their debut release Estuary/Enough came one year later, self-recorded and produced in Black Gate Studios.
They'll perform Enough and Organ.
THE ZILLA
The Zilla consists of Theo Fitzgibbon and Roy Gilmartin both from Dublin, however the band were formed in Hackney, London. Inspired by the sounds of London, The Zilla wanted to make fresh tropical pop music. The Zilla have released I Belong To You and Island on Spotify and plan to release more music in September.
They'll perform Up All Night and Rumours Of Gold.
Make sure you get down and join us in Tramline on Thursday, June 21st for a night not to be missed – it's going to be epic!