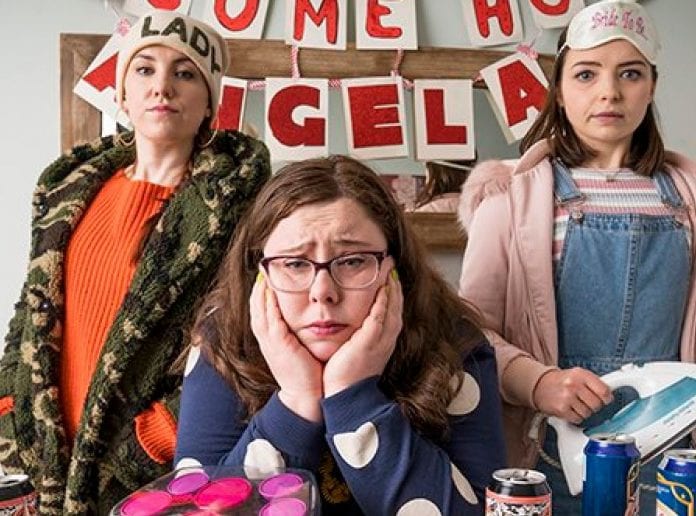 RTÉ has debuted it's latest home-grown comedy this week 'Nowhere Fast' which stars none other than stand-up comedienne, Alison Spittle.
The series was co-created by Spittle and her boyfriend, Simon Mulholland and relays the story of Angela, a twenty-something living in Dublin pursuing her dream job in radio.
Unfortunately things soon take a turn for the worst after she libels one of her misogynistic colleagues on air, which results in her firing and the station being shut down.
Not only does she have to return to small-town life, she also has to move back in with her family, something the 'boomerang' generation will definitely be able to relate to.
Her overbearing mother is played by Cathy Belton (Patricia in Red Rock) and her motivational poster designer stepfather is played by Mark Doherty (Father Linehan in Moone Boy).
Now on #RTE2 @AlisonSpittle is going #NowhereFast … and it's hilarious! #NewIrishComedy pic.twitter.com/4tb8OEWRmu

— RTÉ2 (@RTE2) November 13, 2017
The sitcom follows Angela as she tries to rebuild her life and figure out her next move. Our heroine's plight is somewhat lightened by her two best friends, the outrageous Mary and more reserved Brid, played by Clare Monnelly (Moone Boy) and Genevieve Hulme-Beaman (Edinburgh Fringe First Award winner).
The trio embark on alcohol fuelled antics and wind up in various forms of mischief around their local town. It certainly sounds as if they have all the right ingredients for a successful Irish sitcom!
Anyone catch the first episode? Is Spittle likely to join other Irish comedy greats or quickly disappear from the schedules?
Let us know what you think – hit or miss?
Nowhere Fast, Mondays 10pm, RTE2
Feature Image: RTÉ2