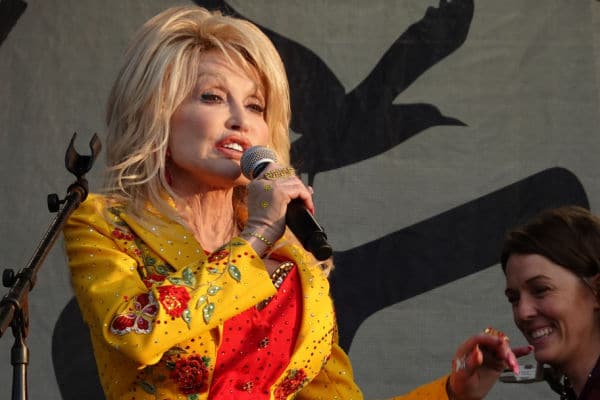 Dolly Parton has announced that Stevie Nicks, Paul McCartney and Steven Tyler are among the household names featuring on her upcoming rock album.
Titled 'Rockstar', the album will arrive this Friday (January 20), and includes a long list of high profile stars, who will contribute to it.
Speaking about the album previously, Dolly Parton said that it would feature covers from the likes of Prince and the Rolling Stones.
The singer revealed that the album will see Brandi Carlile and Pink singing a cover of the Rolling Stones' track 'I Can't Get No Satisfaction'.
Last month, Parton also revealed that she was hopeful that Elton John may feature on the album.
"And I've sent out a message asking if he would sing with me on it and possibly play the piano", she said. "So if y'all get to see him, say Dolly wants you to sing on her record! So anyway, but I love him, just tell him to enjoy it because it was great fun for me". 
"I think Pink and Brandi Carlile are gonna be singing on that particular song [the Stones' 'Satisfaction'] with me", she said.
Parton was also asked if Mick Jagger was to feature on this album.
"Well I'm doing my best to try and get him on ['Rock Star']," she replied. "But I did his song anyway". 
"iconic singers"
Elsewhere, Dolly Parton added that 'Rockstar' would include other "iconic singers", including former Fleetwood Mac singer Stevie Nicks.
"Stevie Nicks… we just finished our song last night", Dolly revealed.
Parton went on to explain that the album would also include other names such as Aerosmith's Steven Tyler, John Fogarty, along with former Journey singer Steve Perry, along with Cher.
"I'm even gonna have Cher on [the album]," Parton continued. "I've been getting a song for her, we've been trying to get the right thing together. But that's going to be a big thrill I think".