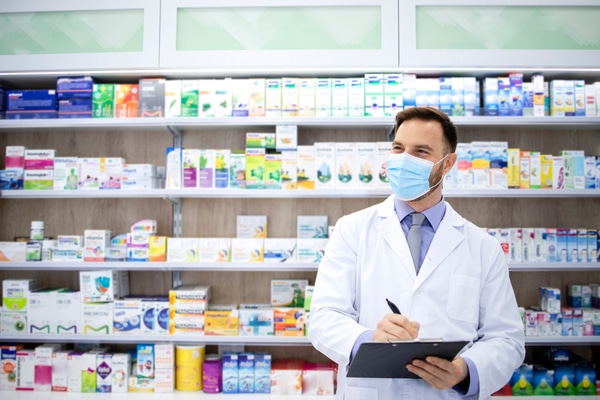 Pharmacists across the Republic are to begin administering COVID-19 vaccines from this week, starting with people over the age of 50. Those who are yet to receive a jab can now do so in local pharmacies, with around 1,300 locations offering the single-dose Johnson and Johnson vaccine.
Although people do not need to register online, they will need to book an appointment with a participating pharmacist, a list of which can be found on the HSE's website. Irish Pharmacy Union Chief Executive, Darragh O'Loughlin described today as an exciting one for pharmacists who have been "ready and waiting" for months.
"The first is that the Johnson and Johnson vaccine will be delivered to 700 or 800 pharmacies in the coming days and those will be available for anyone over the age of 50 who hasn't already been vaccinated, whether or not they registered on the HSE portal."
"In a couple of weeks, a number of pharmacies, mostly those that are not too close to vaccination centres, will have the Pfizer vaccine and they'll be using them just the same as the vaccination centres and GPs as part of the national vaccination programme."
Mr O'Loughlin said people over the age of 50 who have not received vaccination can now call their pharmacy to make an appointment. Pharmacists will be able to set people up on the portal, if they are not yet on it, and administer that vaccination for them. The process "won't simply be a case of walking in the door" as the Chief executive aims to "avoid wasted doses as much as possible".
According to O'Loughlin, pharmacists have faced "a lot of frustration and disappointment" at the time it has taken to include them in the rollout.
"When the vaccination programme was originally published last winter, we were included in it – it was pharmacists, GPS and vaccination centres – but for their own reasons the HSE didn't implement the pharmacy piece. We have been pushing all year to overcome any hurdle that is in the way to try and get vaccination rolled out to pharmacies.
"Even now it is only a limited number of pharmacies that will be getting the Pfizer vaccine so we would like to see that increased so people all over the country have the opportunity to get a vaccine in a pharmacy."
O'Loughlin hopes the National Immunisation Advisory Committee (NIAC) would soon clear the Jansen jab for use in people aged 40+. The Chief executive expects pharmacies to be given a clear role in the administration of booster shots, if and when they are rolled out.
It has also been confirmed that 81 Boots Ireland pharmacies will be participating locations for the offering of COVID-19 vaccinations. Stephen Watkins, Managing Director of Boots Ireland said that they are "incredibly proud" to be offering the service from tomorrow. "As the largest pharmacy chain providing vaccines in Ireland, we stand with the HSE and local communities to play our part in this incredibly important milestone."
From June 15th, customers aged 50+ can book an appointment at Boots via boots.ie/covid-vaccination.