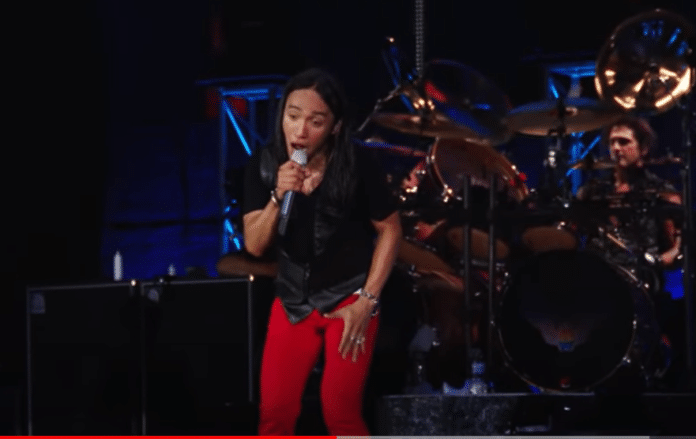 Journey's Arnel Pineda has teamed up with Billy Sheehan and Joel Hoekstra for a cover of Steve Miller Band's track "Abracadabra".
Check it out here.
For the track Billy Sheehan is on bass. Sheehan is also best known for his work with American band Mr Big. Joel Hoekstra is on guitar, best known for his work as guitarist and back vocalist for English band Whitesnake.
On this collaboration Pineda also said this, "Big thanks to my good friends for this awesome collaboration". 
Journey
Arnel Pineda is of course best known as the vocalist for Journey. He joined the band in 2007, after being discovered by their guitarist Neal Schon leading a Manila cover band on YouTube.
Pineda was a longtime vocal doppleganger for vocalist Steve Perry. However, fans were not happy about his arrival into the band. They felt his voice was a "copycat" of Perry's.
Speaking in January, Pineda said that he would love a potential return of Steve Perry to Journey, hailing him as one of his "heroes". More on that here.
During his time with the band, Pineda has co-written studio recordings. These include "Revelation" from 2008 and "Eclipse" from 2011. He also co-wrote Journey's 2009 concert DVD, "Live In Manila".
Pineda: An Inspiration
Pineda himself has had to overcome several difficult challenges in his life. His mother passed away when he was young. The Journey vocalist has also battled borderline starvation and homelesness.
Despite all these difficulties, Pineda has proceeded to set up the Arnel Pineda Foundation. Formed in 2010, this is a non-profit, non-stock and independent foundation based his native country the Philippines. This organisation provides education, medical attention and health services for underprivileged children.
This ability to give back explains why Pineda is viewed as an inspiration. He assembled a team to battle poverty and the impact it has had on the young people of the Philippines.
For many young people in developing countries such as the Philippines, education appears beyond reach, due to poverty and lack of supports from Governments. The Arnel Pineda Foundation strives to secure a better and brighter future for the youth via education.