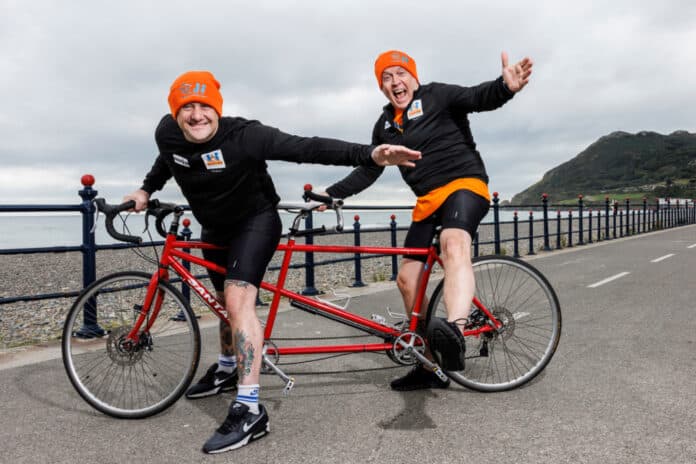 One Bike, Two Radio Nova Presenters, Thirty Kilometers, and One Great Cause:
PJ Gallagher & Jim McCabe will tandem cycle from Hill 16 to Bray Head in a "Hilloween" challenge for the Jack and Jill Children's Foundation, on Friday October 28th.
The Morning Glory duo will embark on the epic 30km tandem cycle from Croke Park as part of the eighth annual 'Up the Hill for Jack and Jill' fundraiser for the Jack and Jill Children's Foundation and inspire the public to see what they can do to help raise funds.
This year's #UpTheHill2022 challenge sees PJ doubling his 2021 cycle on a penny farthing with twice as many kilometres, twice as many hours, and his co-host along for the ride but this time on a TANDEM!
Speaking of his upcoming 'Hill to Hill' challenge, PJ Gallagher said: "The Jack and Jill Foundation do incredible work and we were so blown away by the support for the cycle last year that we decided to double it and do it all again, only harder, with the two of us on one bike and twice the distance.  It will be nice to have some company this year, with Jim as my backseat driver."
Jim McCabe said of taking more of a central role this year, "I figured PJ would need the moral support given the scale of this year's challenge. He gave me a lot of stick for just commentating last year, so I'm looking forward to showing him how its done this year!"#
YOU CAN LEND YOUR SUPPRT AND donate via www.jackandjill.ie 
The nationwide charity reached its own summit in 2022 by providing support to 412 children, the highest number in its 25-year history. To meet this steep care commitment, Jack and Jill is asking people in every county to support local families in their community by going 'Up the Hill for Jack and Jill'. Jack and Jill's mission is to empower parents to care for their very sick child at home in communities across Ireland, because for a Jack and Jill child, there is no care like home care for a Jack and Jill child. The charity is asking the public to climb any hill, any day, anywhere and by any means. Whether you go high or go low, it's the taking part that keeps Jack and Jill on the go! Register today for just €18 per person at JackandJill.ie and support one hour of specialist in-home nursing care for a local Jack and Jill family
Last year's challenge has been shortlisted for the Community / Social Action Award at this year's IMRO Radio Awards 2022 taking place on Friday 7th October 2022.