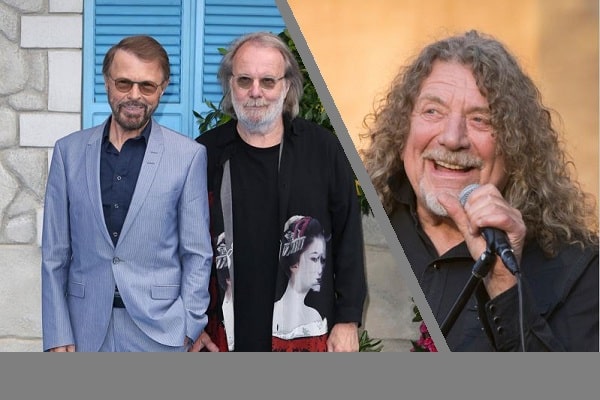 With the return of disco pop group, ABBA to our music collections, an old story is doing the rounds. Ultimate Classic Rock writer, Martin Kielty revisits the strange interview where Robert Plant claims to have had drinks in a sex club with Benny Andersson and Bjorn Ulvaeus.
Plant happily divulged the evening in 1978 Stockholm in a 2005 Swedish TV interview, claiming Ulvaeus and Andersson used to accompany them to local sex clubs to get away from their wives. Plant said, "I knew Benny and Bjorn very well. Jimmy and I were hanging around with them most nights. There were some very nice clubs here in Stockholm then. … People seemed to want to go to sleep very early when we got to them, because they immediately got out a circular mattress with a zip down the middle. And ladies and men started going to sleep together, while we were having a drinkie-winkie with Benny and Bjorn".
Plant was in a giddy in the interview, suggesting that he was "very active" as a young man, and liked to "work out in cheap motels". The Zepp lead singer also referred to the game of tennis as "another excuse for wife-swapping", while inviting the female interviewer to "join me" inside a small hat.
With the interviewer taken back by the rocker's comments, stating; "Now you're just lying", Plant claims; "I swear! It was called a [dramatic pause] sex club". The singer believes the Abba duo would "substantiate" his story if they were on the show, before turning to the camera with a message for the lads. "You remember that, Benny and Bjorn?" Plant asks, wagging his finger. "We used to run away from your women!"
Plant stopped short of claiming the ABBA duo had partaken in anything more than a few drinks. At this time of the rocker's life, he had steadied his ship following the 1977 death of young son Karak. Andersson was then ABBA bandmate Anni-Frid Lyngstad's husband, while Ulveus and Frida's co-singer Agnetha Faltskog were also married.
While discussing ABBA's personal invitation for Led Zeppelin to record In Through the Out Door at their Polar Studios, Jimmy Page later confirms parts of Plant's story. "The studio was only known for ABBA, and they wanted an internationally known rock group to record there," Page told Classic Rock in 2015. "We had a chat and they said they'd be generous with studio time. We went out there in December, I think. It was biting cold, snow everywhere.
"I met Bjorn when I was setting up," Page added. "He gave me a guitar, which was very sweet. A day later I met Benny. … At the time, Benny was still married to Frida. So, we all went out to a club together one night. They were nice people. I was rather hoping we were going to meet Agnetha, but that wasn't part of the deal!"
Although members of ABBA have never spoken about the sex-club rumour, a spokesperson denied Plant's lurid story and claimed; "They've never been to any sex club with Robert Plant."