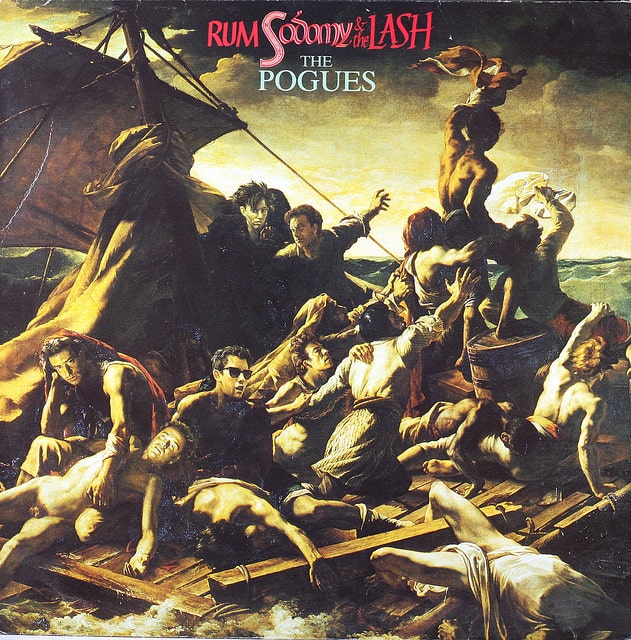 Rum, Sodomy & The Lash is the second album from The Pogues and it was released on the 5th of August 1985. The name of the album came from a quotation often misattributed to Wintston Churchill "Don't talk to me about naval tradition. It's nothing but rum, sodomy, and the lash."
"I saw my task… was to capture them in their dilapidated glory before some more professional producer f–ked them up," Elvis Costello wrote of his role behind the controls for the Pogues' second album, Rum, Sodomy & The Lash. One spin of the album proves that Costello accomplished his mission; this album captures all the sweat, fire, and angry joy that was lost in the thin, disembodied recording of the band's debut, and the Pogues sound stronger and tighter without losing a bit of their edge in the process.
Rum, Sodomy &The Lash also found Shane MacGowan growing steadily as a songwriter; while the debut had its moments, the blazing and bitter roar of the opening track, 'The Sick Bed of Cúchulainn', made it clear MacGowan had fused the intelligent anger of punk and the sly storytelling of Irish folk as no one had before.
The rent boys' serenade of 'The Old Main Drag' and the dazzling, drunken character sketch of 'A Pair of Brown Eyes' proved there were plenty of directions where he could take his gifts. And like any good folk group, the Pogues also had a great ear for other people's songs.
Bassist Cait O Riordain's haunting performance of 'I'm a Man You Don't Meet Every Day' is simply superb (it must have especially impressed Costello, who would later marry her), and while Shane MacGowan may not have written 'Dirty Old Town' or 'And the Band Played Waltzing Matilda,' his wrought, emotionally compelling vocals made them his from then on.
Rum, Sodomy & The Lash falls just a bit short of being the Pogues' best album, but was the first one to prove that they were a great band, and not just a great idea for a band.
Tracklist:
1. The Sick Bed of Cúchulainn
2. The Old Main Drag
3. Wild Cats of Kilkenny
4. I'm A Man You Don't Meet Everday
5. A Pair Of Brown Eyes
6. Sally MacLennane
7. Dirty Old Town
8. Jesse James
9. Navigator
10. Billy's Bones
11. The Gentlemen Soldier
12. And The Band Play Waltzing Matilda
Photo Credit: Kevin Dooley