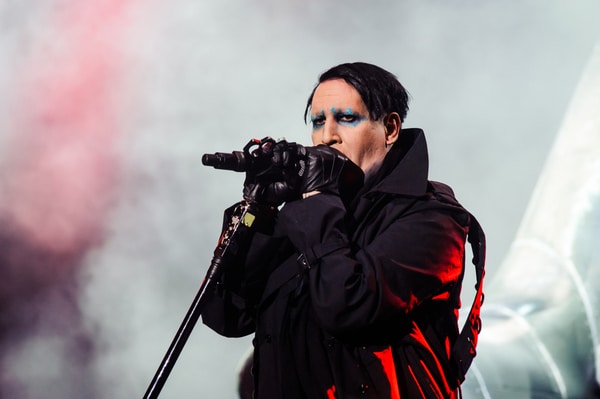 A search was conducted at Marilyn Manson's Los Angeles home on Monday as police investigate allegations of sexual assault made against the rocker.
As part of investigations into claims of abuse from several women, Special Victims Unit detectives from the Los Angeles County Sheriff's Department acted on a search warrant and carried out the search while Manson was absent from his home.
Detectives confiscated media storage devices, including hard drives. It's expected the content of the devices will now be reviewed ahead of submitting a case to the Los Angeles County District Attorney.
Los Angeles County sheriff's Deputy Eva Jimenez confirmed that a search warrant had been performed at the home of Manson, whose real name is Brian Warner, but would give no further details.
The Sheriff's department began investigating Manson in February over reports of domestic violence incidents at his then West Hollywood home between 2009 and 2011.
The women who made the reports have not been officially identified, but several women, including actress Evan Rachel Wood, have spoken publicly about their treatment at the hands of Manson. Some of the women have filed lawsuits, citing emotional, physical and sexual abuse.
The allegations have been denied by Manson, whose lawyer Howard E. King has called the reports "provably false."
Wood, who was once engaged to Manson, took to Instagram in February to accuse the performer of abuse. She described herself as being "manipulated into submission" by Manson.
The actress had previously spoken about being abused by an unnamed man, whom she ultimately revealed as Manson.
"The name of my abuser is Brian Warner, also known to the world as Marilyn Manson," she wrote on her Instagram feed. "He started grooming me when I was a teenager and horrifically abused me for years."
Manson described Wood's allegations as "horrible distortions of reality."
The rocker was immediately dropped by his record label, Loma Vista Recordings, who issued a statement saying they had "decided not to work with Marilyn Manson on any future projects."
In May, Game of Thrones actress Esmé Bianco sued Manson for violating human trafficking laws by bringing her to the US from England with the promise of acting projects that didn't exist.
Bianco's lawsuit claims Manson locked the actress in a bedroom, deprived her of sleep, subjected her to electric shocks, whipped her and threatened her with rape.
Another lawsuit was brought against Manson by a former assistant, who said he used "his position of power, celebrity and connections to exploit and victimise [her] during her employment."
Manson has said he believes his accusers are orchestrating a "co-ordinated attack" against him.