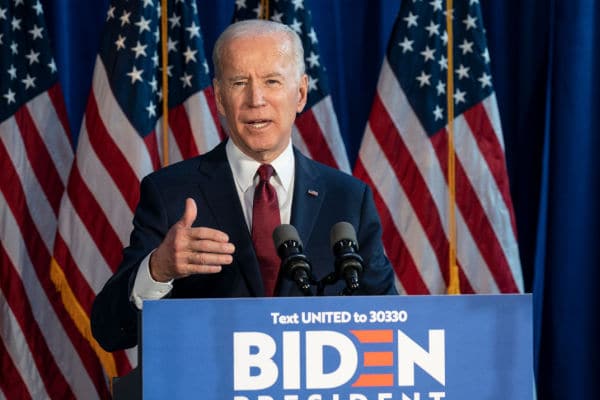 Would you like to listen to the article instead of reading it?
US President Joe Biden has announced that he will run for a second term in the White House.
Mr Biden who visted Ireland earlier this month, confirmed his intentions to run in the 2024 election via a video, released by his campaign team, where he announced that his job is to defend American democracy.
Along with labelling Republicans as a threat to American freedom, Biden's video also includes imagery from the US Capitol riots by Donald Trump supporters, which took place in January 2021.
"the soul of America"
Joe Biden announced his intention to run for a second term in office via this video.
"When I ran for president four years ago, I said we're in a battle for the soul of America, and we still are", he can be heard saying. "This is not a time to be complacent. That's why I'm running for re-election". 
"Let's finish this job. I know we can", the president called.
In the video, Joe Biden also outlined some of the threats to American society posed by the Republican party, including cutting social security, banning books, and limiting women's healthcare.
He also took a swipe at what he described as "MAGA extremists". 
The aconym MAGA stands for "Make America Great Again", which was the political slogan of former US President Donald Trump, who could well turn out to be Biden's election opponent once again.
Every generation has a moment where they have had to stand up for democracy. To stand up for their fundamental freedoms. I believe this is ours.

That's why I'm running for reelection as President of the United States. Join us. Let's finish the job. https://t.co/V9Mzpw8Sqy pic.twitter.com/Y4NXR6B8ly

— Joe Biden (@JoeBiden) April 25, 2023
Many people in the US have voiced their concerns about Biden's ability to lead their country for another four years, which would mean that he would turn 86 years old by the end of a potential second term.
According to a Reunters/Ipos poll taken last week, Joe Biden's approval ratings stymied at 39%, with many people concerned over his age.
Despite these concerns, Joe Biden's doctors have declared him "fit for duty", following an examination in February.
The White House have also insisted that Biden is mentally sharp enough to cope with the stresses of the job. He will be joined by his running mate Kamala Harris for the 2024 election.