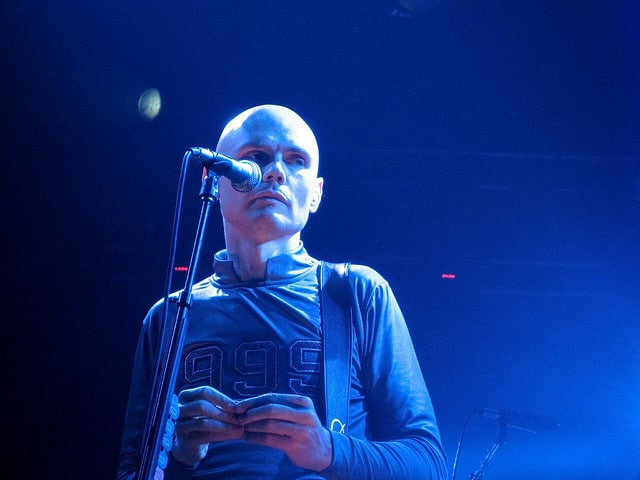 Billy Corgan has hinted that he might disband the Smashing Pumpkins following the release of their upcoming albums.
Smashing Pumpkins have two new albums planned for 2015. The first, Monuments To An Elegy is nearly complete. The second is likely to be named Day For Night.
They feature Motley Crue's Tommy Lee on drums and by all accounts, the music is a return to the band's rock roots. "I think he has probably the best record he's ever written," Lee says. "These are like epic, goosebump songs. It sounds like the first couple of Smashing Pumpkins records. I was f**king blown away."
It wouldn't be the first time the Chicago band have disbanded, they previously split in 2000 and reformed again in 2006. Corgan is the only original remaining member of the group.
In an interview with the Chicago Tribune, Corgan expressed his disillusionment with the music industry and the difficulty reaching fans. "I'm not willing to wait around 15 to 20 years to have somebody go, 'Hey, that album you made is really good' and then sell it to the 7000 people that are still paying attention," said Corgan.
He continued, "How do you reach through the fog as an artist? How do you punch your way back through? How do you say, 'I still matter?' How do you say, 'How does one of my contemporaries get treated like a contemporary artist, and how do I get treated like I'm supposed to play 'Siamese Dream' for the rest of my life?'"
Corgan maintained his pessimistic outlook saying, "To go back under the Smashing Pumpkins name engendered a lot of people expecting us to be nothing more than a reunion band, playing its greatest hits, and with a fan base not particularly keen to listen to the new music. What I try to tell people that get caught up in the reunion kind of concepts – like where are the original members and stuff like this – the band was founded on an idea that it must be progressive and it must always be moving forward."
He then gave the ultimatum, "When this new album process is over, I'm either going to bail on this ship for good or I'm going to have a new ship to sail on. At some point, you've got to fight this fight or go away," he said.
Smashing Pumkins have been preparing a deluxe version of Adore. The reissue includes seven discs of 107 tracks, demos with legendary producer Rick Rubin, outtakes and live recordings. The Adore reissue is out on September 23rd.