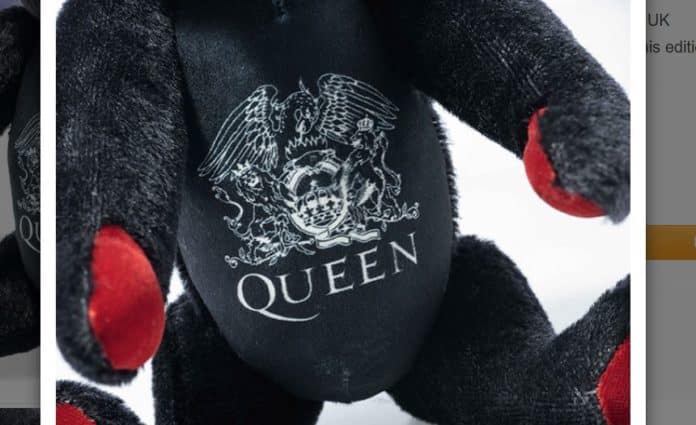 Legendary rock band Queen have joined forces with German based company, Steiff to manufacture a limited edition run of teddy bears. You can pre order one here.
2020 had marked the 50th anniversary of the band's formation, a milestone that both Roger Taylor and Brian May were not so keen to celebrate.
"We didn't want to draw attention to how f*****g ancient we are", Taylor once said to Classic Rock.
Meanwhile, Brian May said that he felt bittersweet about the milestone. He said that it was difficult to completely celebrate without their frontman Freddie Mercury. Mercury passed away in 1991.
"Well I'm proud. Of course, we're proud of what we've done and we're still around", May said. "We just thought, 'Let's just celebrate the fact that we're still creative". 
Adding, "I think it also…because Freddie's not here it changes our feelings a little bit. There's always going to be that little bit of reticence in a sense". More on that story here.
May also said that Mercury would still be playing with Queen if he was still alive today. More here.
Queen the "champions of British rock" – Steiff
On the Teddy bears, Steiff had this to say.
"The Queen limited edition Teddy bear is made from stunning black mohair with red velvet paw pads". 
They also added, "The Teddy bear proudly wears the Queen logo crest on its chest. Celebrate Queen, the Champions of British rock, with this unprecedented Steiff Teddy bear. We are certain you will agree: Steiff Rocks!".
The bears are produced in 1971 units, as according to Steiff, the Queen bear should be kept "somewhere very special in your home to look at and adore for ever and ever". 
"We've seen huge demand for this limited edition Steiff collectable since it went online," Jonny Wynbourne from Steiff also added. "Queen Steiff Rocks is set to become an instant classic with strong pre-release sales already". 
21 years ago, the company ran 665 black bears which were given to survivors of the sinking of the Titanic. One of which sold for $136,000.
While, in 2008, the company also released a run of limited edition 2,500 Karl Largerfield bears. One of these was subsequently sold for £3,687.26 at an auction.
We will rock you with Steiff's Limited Edition QUEEN Teddy Bear! – https://t.co/9Nl1kcjL5c pic.twitter.com/RaTDCCOk8f

— The Bear Garden (@thebeargarden) July 28, 2021
Queen also marked the 40th anniversary since the release of their "Greatest Hits" album. More on that here.