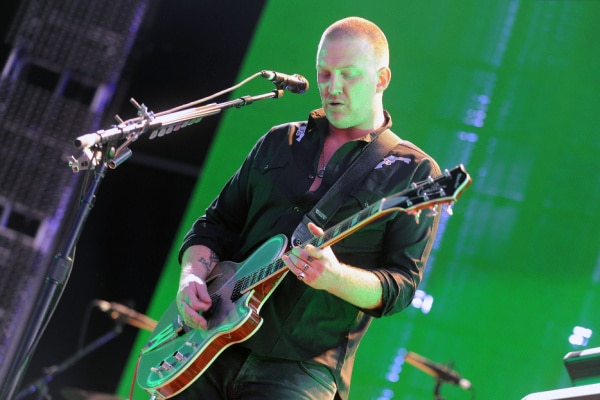 Would you like to listen to the article instead of reading it?
Fan shot footage of Queens Of The Stone Age's set at Glastonbury 2023 has gone viral on social media.
Performing a 16 track set on the Worthy Farm stage, Josh Homme and co treated fans to hits such as 'Go With The Flow', and 'No One Knows'.
This performance marked the fourth time that Queens Of The Stone Age rocked the Glastonbury Stage, having performed at the venue in 1999, 2002, and 2011.
It also marked their first live performances since they released their latest album 'In Times New Roman', which arrived earlier this month. More on that here.
"You don't go until I say Go"
However, it was the closing track from this set, which proved to be the highlight of the show, as Queens Of The Stone Age broke out with a love cover of their 2002 hit 'Song For The Dead'.
In footage shared online, which has since gone viral, fans appear to be forming a circle pit as the song begins.
The band's frontman Josh Homme can be heard stopping everyone from getting into the song too early.
"Wait a minute, I haven't done s*** yet!" Homme shouts out. "Stop for a second! Stop! I haven't done shit. I run this f****** place – you don't go until I say 'Go'".
After the audience from the Other Stage initially become quiet, chaos later ensues when the song raises its beat.
Check out this footage for yourselves below.
https://twitter.com/JibbaJabb/status/1673108911547641861?ref_src=twsrc%5Etfw%7Ctwcamp%5Etweetembed%7Ctwterm%5E1673108911547641861%7Ctwgr%5E33667f589001a8ad8392f904873e43191f73edc9%7Ctwcon%5Es1_&ref_url=https%3A%2F%2Fwww.nme.com%2Fnews%2Fmusic%2Fqueens-of-the-stone-age-glastonbury-2023-circle-pit-goes-viral-watch-footage-3461997
Earlier this month, Queens Of The Stone Age announced dates for their 'The End Is Nero' Tour, which takes place in November.
This tour will also see the band perform at Dublin's 3Arena on November 22, supported by deep tan and The Chats.
Queens Of The Stone Age will also perform in UK cities such as Glasgow, Birmingham and London among others.
Find out the tour dates in full, and Nova's report here.