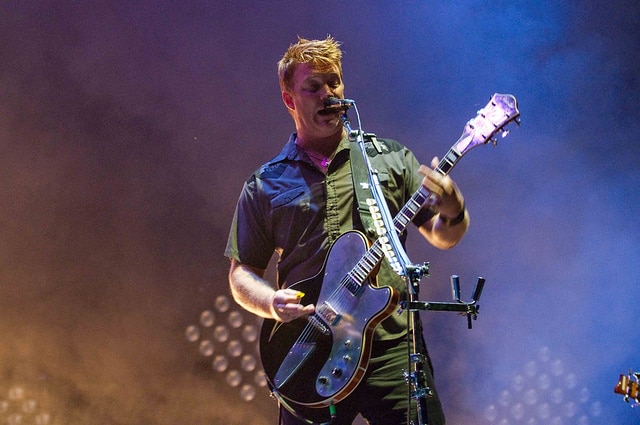 Queens of the Stone Age's bassist Michael Shuman, has dashed the hopes of many Queens fans by claiming that the band are going to take a break.
The American rockers released the excellent Like Clockwork in 2013, which fans waited for eagerly for six years. Now it appears there might be another long wait before the next LP is recorded.
Frontman Josh Homme previously stated that he had written new songs and that some of the tracks were remnants of the Like Clockwork sessions, which the singer described as to 'fun' to go on the 2013 album.
These 'fun' songs were some of the final recordings of the Like Clockwork sessions. The band said that the tracks sounded "too different to the majority of the album" and decided to put them aside. The group felt they should finish one phase before, letting the new phase come in.
But that new phase might not be as soon as we hoped. Speaking to Gigwise, Michael Shuman said: "There will be future stuff with Queens, we're just taking a break since we had a long, long two years of touring. We'll take a break to do other stuff."
Chatting about Queen Of The Stone Age's initial plans to head back and record. "We were eager because we were in a good spot, having fun and the record had done really well. But we decided to take a break because we had been going so hard for so long, and we really worked on that record for a long time. It's not like we're sick of each other and don't want to do it – it's just better to step back for a second and come back once the world has had a little bit of a break from you."
"I think music and working with different people is the kind of process where you gain things along the way. Whether it's a big band, a small band, a different production or crew – you learn something from everybody, well I do. By the time you're older you've figured it out, and that's what's great about Queens – it's a very open family and everyone is free to do what they want and bring different aspects about what they do to the table."
At the moment the bass player is concentrating on his side-band Mini Mansions. Mini Mansions consists of Zach Dawes, Tyler Parkford and Queens of the Stone Age bassist Michael Shuman. They're a mix of the psychedelic aspects of the Beatles and singer-songwriter Elliot Smith.
The band formed in 2009, after Queeens of the Stone Age completed their album Era Vulgaris. The three-piece put out a nine track EP in 2009, released their self-titled debut in 2010 and last year shared their new single 'Death Is A Girl'.
Mini Mansions are planning to release their second studio album titled The Great Pretenders this year, although no dates have been announced yet.