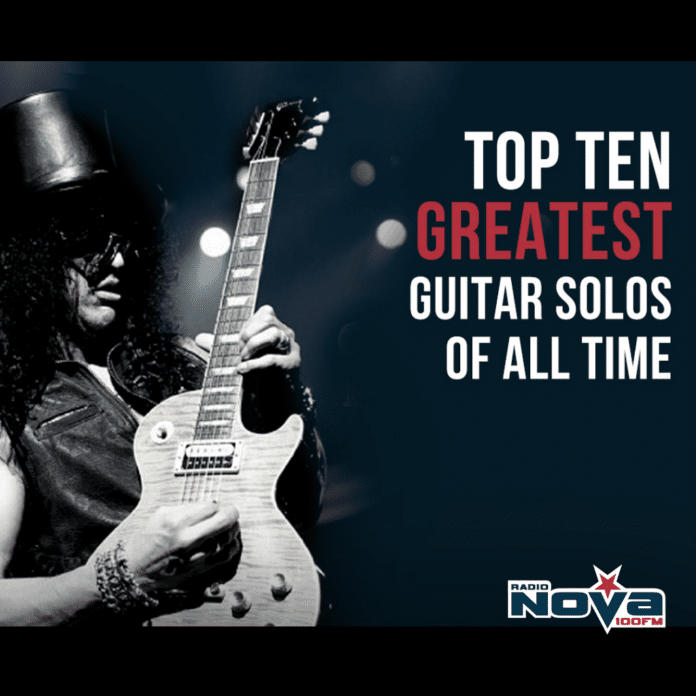 We asked you to help us build a playlist of The Top 10 Greatest Guitar Solos Of All Time and you delivered.
And because the response was so BIG we decided to make a playlist for you to listen to ON REPEAT!
So put the feet up, relax and enjoy!
RADIO NOVA'S TOP 10 GREATEST GUITAR SOLOS OF ALL TIME
1. Led Zeppelin – Stairway to Heaven
Stairway to Heaven is a song by the English rock band Led Zeppelin, released in late 1971.
The song is often regarded as the most popular rock song of all time and makes our number 1 spot for the greatest guitar solo of all time!
2. Lynyrd Skynyrd – Free Bird
Free Bird is a song written and performed by American rock band Lynyrd Skynyrd.
This song began as a ballad without the guitar solos at the end, and Lynyrd Skynyrd recorded it that way for the first time in 1972.
3. Pink Floyd – Comfortably Numb
Comfortably Numb, is one of Pink Floyd's most famous songs, renowned for its two guitar solos.
The song was released on Pink Floyd's eleventh album, The Wall (1979).
4. Thin Lizzy – The Boys Are Back In Town
The Boys Are Back in Town was originally released in 1976 on Thin Lizzy's album Jailbreak.
The song reflects Thin Lizzy's rough-and-tumble composure and working-class roots.
The song was a way of connecting with their fans, who had similar sensibilities.
5. Jimi Hendrix – All Along The Watchtower
All Along the Watchtower is a song written and recorded by American singer-songwriter Bob Dylan.
Jimi Hendrix released his cover of the song in 1968 effectively electrifying the music world.
The iconic guitarist used his rendition as a promotion for his forthcoming album, Electric Ladyland, which would be released less than a month later on October 16th, 1968.
6. AC/DC – Whole Lotta Rosie
Whole Lotta Rosie by AC/DC is the eighth and final track on the band's fourth Australian album, Let There Be Rock, released in Australia in March 1977, and was written by Angus Young, Malcolm Young, and Bon Scott.
It is also the eighth and final track on the international version of the album, released in June the same year.
7. Guns 'n' Roses – November Rain
November Rain by Guns N' Roses was writter by lead vocalist Axl Rose, and was released as a single in 1992 from their third studio album, Use Your Illusion I (1991).
8. Derek & The Dominos – Layla
9. Gary Moore – Parisienne Walkways
Parisienne Walkways by guitarist Gary Moore reached number 8 in the UK Singles Chart in May 1979.
The song is featured on Moore's album Back on the Streets and features a vocal from Thin Lizzy frontman, Phil Lynott, who co-wrote the song with Moore.
10. Deep Purple – Smoke on the Water
Smoke on the Water is a song by the English rock band Deep Purple.
It was first released on their 1972 album Machine Head.
This song took inspiration from a fire in the Casino at Montreux, Switzerland on December 4, 1971.