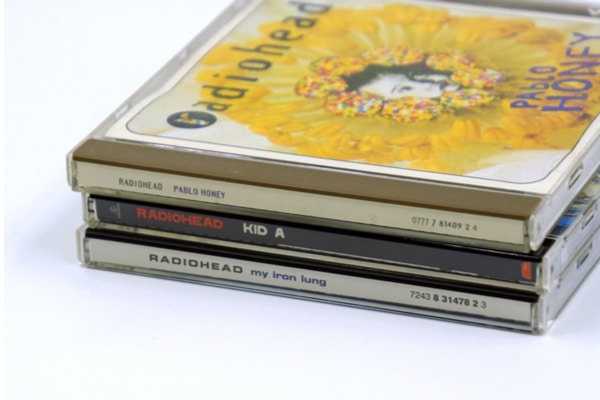 Radiohead have announced a special triple album reissue.
The reissue "Kid A Mnesia" is a special 21st anniversary celebration of the albums "Kid A" and "Amnesiac".
Originally released in October 2000 and May 2001 respectively, both albums were also the subject of a suggestive video shared by the band yesterday.
Soundtracked by Amnesiac"s opening track 'Packt Like Sardines In a Crushd Tin Box', the video also features a pair of hands trying to tape CD copies of "Kid A" and "Amnesiac". They eventually succeed.
Check it out below.
#iceageandsoon#iamcitizeninsane#followmearound#thingsfallingapart#goldenhandshake#whoareyoukidding#theorchestraattheball#allparticipationisamyth#learnhowtoswimbeforetheshipsinks pic.twitter.com/wXLcORYsKu

— Radiohead (@radiohead) September 7, 2021
Radiohead reissue Kid A Mnesia
This special album reissue will be released by Radiohead via XL Recordings on November 5.
This release will also include a new third disc called "Kid Amnesiae". This will consist of unearthed material from the "Kid A" and "Amnesiac" sessions.
On top of all this, the reissue from Radiohead will feature a previously unheard track "If You Say The Word", which you can check out below.
It will also consist of alternate versions and elements of "Kid A" and "Amnesiac" albums. The album also includes B sides. A previously unreleased studio recording "Follow Me Around" is also included.
The album is also available in the following formats: Kid Amnesiette (a limited and numbered edition cassette (limited to 5000) + 36-page booklet), deluxe LP (limited edition 3xLP cream vinyl + 36-page hardback art book), indie exclusive limited edition red vinyl 3xLP, and black vinyl 3xLP, 3xCD and 3-volume digital formats.
You can also check out the tracklist below.
Side 1
'Like Spinning Plates' ('why Us?' Version)
'Untitled V1'
'Fog' (Again Again Version)
'If You Say The Word'
'Follow Me Around'
Side 2
'Pulk/Pull' (True Love Waits Version)
'Untitled V2'
'The Morning Bell' (In The Dark Version)
'Pyramid Strings'
'Alt. Fast Track'
'Untitled V3'
'How To Disappear Into Strings'
Last year, guitarist Ed O'Brien had hinted that a celebration of these albums was on the cards.
"Due to the nature of it, I can't fully reveal anything – but there have been talks about ways of doing something. Everything gets thrown up in the air with coronavirus, so a lot of ideas are being mooted . . .", he said.
Back in February, a sketchpad that was used by Radiohead to jot down ideas for their album "Bends" was also sold at an auction. More on that here.