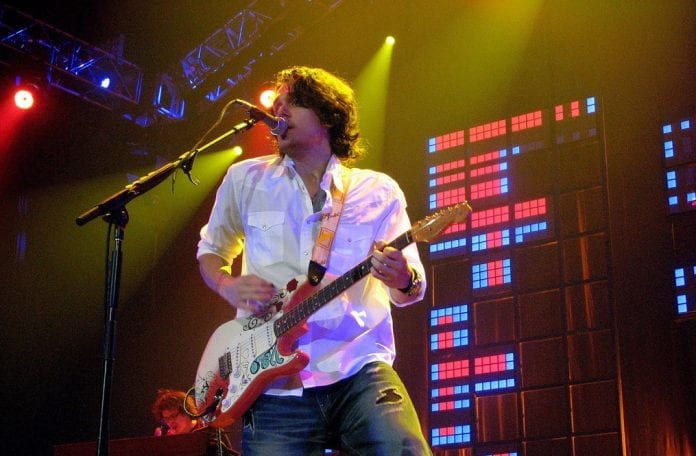 Following two revealing and highly controversial magazine interviews in 2010 with Rolling Stone and Playboy magazines, John Mayer withdrew from public life, moved to rural Montana, grew his hair and took to wearing questionable hats.
In a recent interview with Joe Coscarelli for The Blade, Mayer refers to his time away as his "lean years".
He opened up about the fall-out after the two interviews, saying ""What has to happen for a guy to believe that he's totally well-adjusted and be that far out of touch?" he said. "My GPS was shattered, just shattered."
Mayer is now back with a new EP.
The new album was a long time in the making. Following a guest appearance on The Late Late Show, in 2015 where he invited Grateful Dead guitar player Bob Weir to join him in a studio performance, he went on to embark on a world tour with the legendary band.
"The feeling of inclusion that I have with this band — they saved my life," he said.
Weir, Mickey Hart, and Bill Kreutzmann (surviving members of the Grateful Dead) were preparing for their Fare Thee Well: Celebrating 50 Years of the Grateful Dead tour, and invited Mayer to join them. The guitarist began practicing the band's catalogue of songs. That August, they formed the group Dead & Company, along with Jeff Chimenti and Oteil Burbridge, and began a fall tour in the United States. The tour was well received – Billboard called it "magical", and they continued to tour the US into 2016.
As a result of his touring with Dead and Company, Mayer postponed working on his next studio album.
On November 17, 2016 Mayer released 'Love on the Weekend" as the lead single from his EP The Search for Everything: Wave One, which was then released on January 20, 2017. A second EP, The Search for Everything: Wave Two, was released on February 24, 2017.
The Search for Everything is essentially a tender breakup record, presumably about the end of Mayer's relationship with the pop star Katy Perry, whom he has dated on and off since 2012. With songs like 'Still Feel Like Your Man'. Katy Perry was in the news today having just been announced in the line-up for this summer's Glastonbury festival!
Mayer has just embarked on his Search for Everthing Tour, which opened last week (March 24th).
He is planning on focusing on his music this year. 2017 represents "a year of more music coming than I've ever put out in one year," he said in a live fan Q&A in the back-end of 2016. "That's really sort of what my career has been, it's what my life has been, it's the way that my mind works — it sort of consumes everything. That is very true to the nature of the record, which is sort of like a mixtape of all the music that inspires me and all the styles that I've made before, but certainly in my own certain way of doing it."
He will be touring North America and playing London's O2 May 11th and 12th before reuniting with the Grateful Dead in the summer for further dates with the legends, kicking off in Las Vegas.
Picture Credit: Victoria Welch