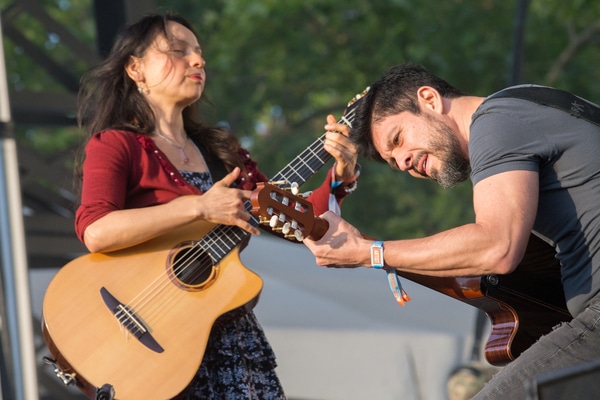 Mexican acoustic guitar duo, Rodrigo y Gabriela, have been nominated for a Best Arrangement, Instrumental or A Capella for their cover of Metallica's The Struggle Within. Keen on a wide breadth of heavy metal, the musicians have repeatedly teamed up with rock and metal stars both in the studio and onstage, throughout their two-decade-plus career.
Previously covering songs such as Orion, Battery, and One, the duo welcomed Robert Trujillo to the stage in 2014 to perform a medley of Metallica's hits. Rodrigo y Gabriela's contribution to The Metallica Blacklist is most in focus right now as the duo aim to score their second overall Grammy victory. The album, which was released earlier this year, is a compilation featuring 53 artists and a shedload of hits.
Rodrigo y Gabriela won their first award at the 62nd Annual Grammy Awards in January of 2020, for Best Contemporary Instrumental Album for their fifth album, Mettavolution. The album finishes off nicely with a rendition of Pink Floyd's Echoes.
Speaking on the cover, consumes the entire second side of the new album, Rodrigo y Gabriela said, "We are big Pink Floyd fans. That track, especially the live in Pompeii version means a lot to us, we even made a huge visual reference in our video for 'Hanuman.'"
"Besides that, the lyrics are even more relevant now than they were 45 years ago, the search for knowledge about ourselves, it's becoming a key element for survival these days, that's what evolution is all about at the end of the day.
"Everything was ready for it, all the circumstances around the idea of agreeing to work with a producer came together right at the time we talked to Sardy. And our intuition was right. We talked to a lot of great producers before him, but the conditions just weren't there. When we talked to Dave it just felt we had arrived."
Rodrigo y Gabriela's latest nomination for 'Best Arrangement, Instrumental or A Capella' is just their second-ever nomination. The 65th Annual Grammy Awards ceremony will be held on January 31st at the Crypto.com Arena in LA.