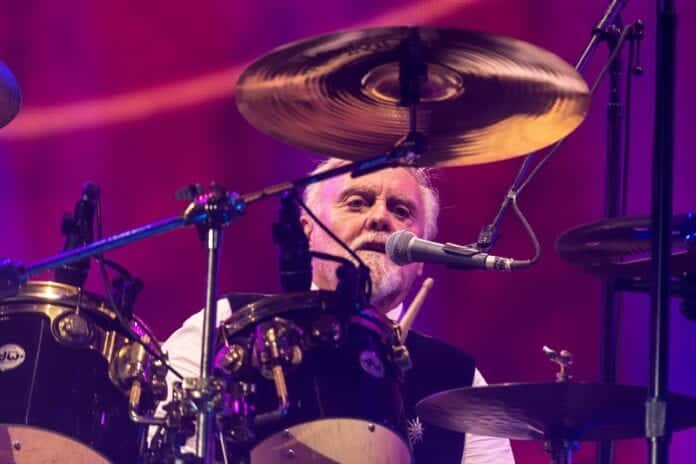 Roger Taylor has revealed that Queen and David Bowie jammed on some Cream songs when they were writing their classic hit 'Under Pressure'.
In a new interview Record Collector magazine, Taylor said:
"If we look to the archives, there's probably stuff." He noted that they'd played "all sorts of old songs…whatever came into our head…We would do the odd thing like covering old Cream songs.
"I remember we did 'N.S.U.' and 'I Feel Free,' just for a laugh really, and then we decided, 'Let's write one for ourselves.'"
Queen and David Bowie wrote 'Under Pressure' in 1981 and the song went on to become one of the most iconic hits in music history. The story of how the song came to be is quite interesting.
They were both at a recording studio in the Swiss mountains. Queen at the time were in the process of writing their 10th album, 'Hot Space' at Mountain Studios in Montreux, Switzerland.
David Bowie was in the same studio as he was recording the theme and title track for the upcoming film 'Cat People'.
Once the starman knew Queen were in the studio, Bowie would visit Queen with copious amounts of cocaine, wine, and cheese.
They eventually started playing together and that's how 'Under Pressure' was born.
However, Queen guitarist Brian May has discussed the recording sessions before and they were problematic. In a 2017 interview with Radio X, May said:
"It wasn't easy because we were all precocious boys and David was very… forceful, yes.
"Freddie and David locked horns, without a doubt. But those are the things that happen in a studio, that's when the sparks fly and that's why it turned out so great."
He added, "[They locked horns] in subtle ways, like who would arrive last at the studio. So it was sort of wonderful and terrible. But in my mind, I remember the wonderful now, more than the terrible.
"And not all of what we did in those sessions has ever come to light, so there's a thought…"
It remains to be seen if those recordings will ever see the light of day, but Roger Taylor and Queen recently announced the release of their first mobile game.
You can check out Radio Nova's report on it here.