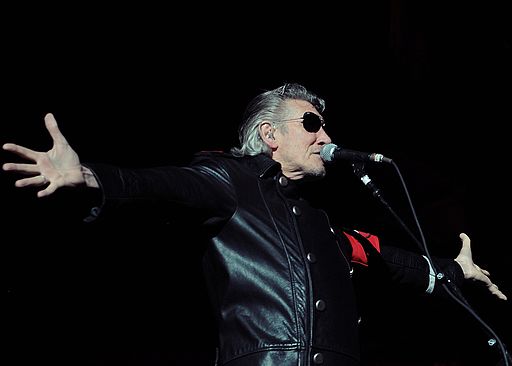 Roger Waters, of Pink Floyd, hosted a rehearsal for "friends and family" on Sunday night and put a unique spin on of "Pigs (Three Different Ones)".
Waters dedicated the song to none other than Donald Trump, and used many audio-visual components of the performance to highlight his issues and distrust with Trump.
While performing the song, he had a giant, flying, drone-controlled pig flying around the screen, which was emblazoned with the words "welcome to the machine". There was also an image of Trump with dollar signs over his eyes and a word bubble saying, "I won!". On the other side of the pig, there was writing which stated: "piggy bank of war."
The large screens also featured some of Trumps more unflattering quotes, delving from topics about the wall between Mexico and the US, 9/11, taxes and women. Eventually the words "f**k Trump" followed on screen. He also continued with Trump-related imagery in 'Money', and used 'Us And Them' to showcase a world at odds with each other.
https://youtu.be/f4zUceH9ZsQ
Waters spoke to the Rolling Stone earlier this year, and discussed how he sees "Pigs" as a fitting forum to attack his target. "The first verse fits Trump really well. You know, 'Big man, pig man/Ha-ha, charade you are.' And the stuff about, 'Down in the pig mine' and 'Pig stain on your fat chin,'" he pointed out. "It's about gluttony, and Trump is a glutton for his own self-love. He's also a philistine and deeply insensitive. He shouts it from the rooftops. Unfortunately, because he's been elected as president of the United States, it has emboldened him in the view that people are impressed by him".
Roger Waters also played number of new songs from his upcoming LP, Is This the Life We Really Want?,. These songs were so new that at points he forgot their names. These songs included "Déjà Vu," "The Last Refugee" "Picture That" and "Smell the Roses".
However he was also still sticking with the classics and the majority of the set consisted of Pink Floyd numbers, including "Time," "Another Brick in the Wall (Part 2)," "Brain Damage" and "Comfortably Numb."
Set One:
Speak to Me/Breathe
One of These Days
Time
Breathe (Reprise)
The Great Gig in the Sky
Déjà Vu
The Last Refugee
Picture That
Welcome to the Machine
Wish You Were Here
The Happiest Days of Our Lives
Another Brick in the Wall Part 2
Another Brick in the Wall Part 3
Set 2:
Dogs
Pigs (Three Different Ones)
Money
Us and Them
Smell the Roses
Brain Damage
Eclipse
Encore:
Vera
Bring the Boys Back Home
Comfortably Numb
Photo Cred: Brennan Schnell