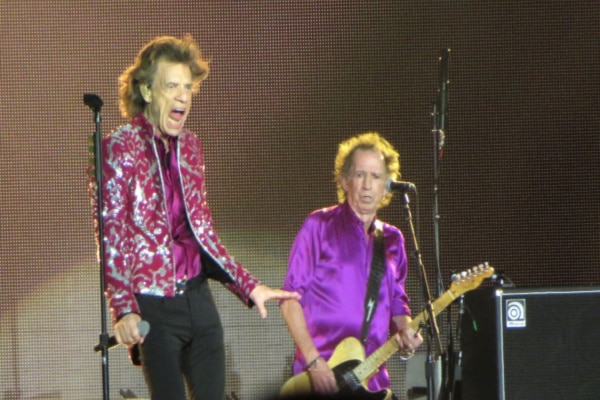 Last night (June 1) saw the Rolling Stones launched their 60th Anniversary Tour in Madrid, Spain.
This gig saw the Stones play their 1966 track 'Out Of Time' for the first time at a live concert.
'Out Of Time', was initially released as part of the band's 1966 LP Aftermath. However, it was not released as a single, and was also overshadowed by 'Paint It Black'.
It was produced by the Stones' frontman Mick Jagger as a cover for British singer Chris Farlowe, with Jimmy Page on guitar.
The track was also included on the band's 1975 compilation album Metamorphosis, which saw Jagger on vocals.
You can check out the latest live performance of the track from the Rolling Stones from Madrid below.
Along with 'Out Of Time', the Rolling Stones also performed tracks such as 'Street Fighting Man' and 'Beast Of Burden'.
Not so well known tracks like 'Slipping Away' and 'Sad Sad Sad' were also performed in front of their Spanish supporters.
Rolling Stones' Ronnie On Turning 75
Along with the tour, the Rolling Stones also celebrated the fact that their guitarist Ronnie Wood turned 75 recently.
Taking to Twitter, the Rolling Stones wished their band member many happy returns.
"Happy birthday @ronniewood!!", they wrote. "We'll see you on stage tonight in Madrid to celebrate!". 
Speaking of the milestone, Wood said he felt "reborn". 
"Without a doubt. I have a new private life, recovered health, new inspirations", the Stones guitarist continued. "The energy is profoundly renewed. And now I need that energy more than anything. After all, we are facing the last tour!". 
A source also added, "Ronnie is teetotal and hasn't smoked for three years".
They continued, "These days he loves a double espresso so Ronnie will have a couple of those and cake in the afternoon before he heads to the stadium. It is a different party to how things used to be on the road, but he is very happy". 
The Rolling Stones continue their tour on June 5 in Munich. They conclude the European leg of their tour in Stockholm in Sweden on July 31.