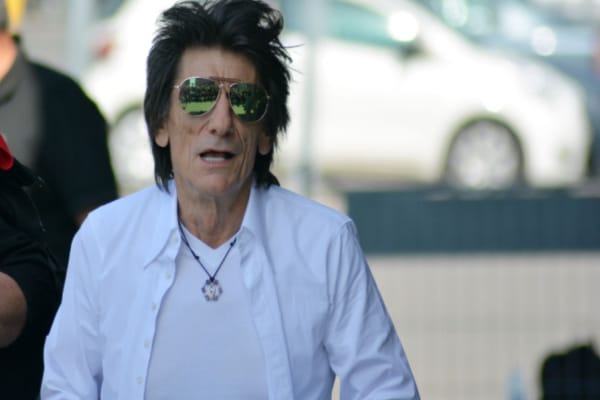 Marking his 75th birthday, Ronnie Wood will join the rest of the Rolling Stones band to perform live in Madrid to mark the band's 60th anniversary tour.
Speaking on turning 75, Ronnie Wood says he feels "reborn", ahead of the band's opening night of the tour.
"Happy birthday will be sung too"
Wood's family including wife Sally Humphreys and six year old daugters Gracie and Alice are also in Spain, where they will enjoy a tea party and birthday cake.
"Ronnie is teetotal and hasn't smoked for three years", a source has said.
"These days he loves a double espresso so Ronnie will have a couple of those and cake in the afternoon before he heads to the stadium. It is a different party to how things used to be on the road, but he is very happy". 
They also added, "Before the show Mick, Keith, Ronnie and the backing singers tend to bash out some rock 'n' roll tunes to warm up, so no doubt Happy Birthday will be sung too". 
Along with Spain and Germany, Wood, Jagger and co will also begin the UK leg of this mammoth tour next week. This will include a live performance at Liverpool FC's Anfield Stadium on June 9.
Ahead of that trip to Anfield, the band also confirmed that they will be supported by Liverpudlian band Echo and the Bunnymen. More on that here.
The band also took to Twitter to wish Ronnie many happy returns.
Happy birthday @ronniewood!! 🎉🎉
We'll see you on stage tonight in Madrid to celebrate! 🎸 pic.twitter.com/aqEwDAJZzc

— The Rolling Stones (@RollingStones) June 1, 2022
Ronnie Feels "reborn"
Ronnie Wood married Sally Humphreys in 2012. She is a theatre producer.
Wood himself successfully battled lung cancer, before confirming he was cured in 2018. Wood was also diagnosed with small cell cancer during lockdown, but was given an all-clear. 
Ronnie was full of praise for his wife Sally, who says that she makes him feel "reborn". 
"Without a doubt. I have a new private life, recovered health, new inspirations", he said.
"The energy is profoundly renewed. And now I need that energy more than anything. After all, we are facing the last tour!". 
Later this month, the Rolling Stones will also release a boxset 'The Rolling Stones Singles 1963-66'. This will arrive on June 10. More here.