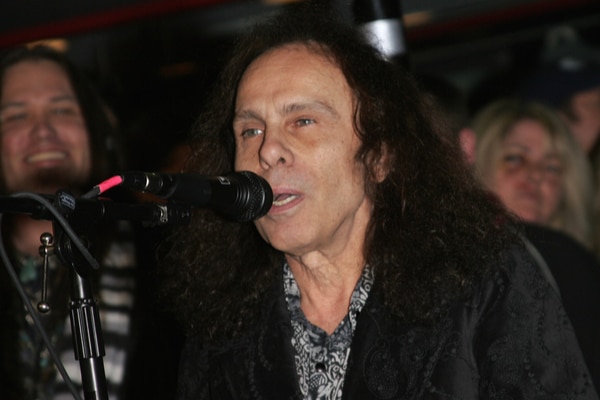 Having been first announced two years ago, the much anticipated documentary on Ronnie James Dio is to be released some time in 2022.
Describing it as "very emotional", Ronnie's widow Wendy confirmed this news. The biopic has also yet to given an official title.
"It goes all the way through his life till the end", she said. "I was watching it with my publicist and a person from BMG, who are funding the documentary, and we all cried".
Co directed by Damien Fenton and Don Argot, the documentary will also include interviews from Tenacious D aka Jack Black and Judas Priest's Rob Halford. It will also feature contributions from Geezer Butler, Dio's bandmate from Black Sabbath. Lita Ford of the Runaways will also feature.
Both Fenton and Argott had previously worked together on several movies in the past, including Rock School which was released in 2005.
Rainbow In The Dark 
This documentary will also include snippets of Ronnie James Dio's autobiography, Rainbow In The Dark. This was named after one of his singles with his band Dio.
Dio had been working on this book with biographer Mick Wall. Wall also worked with the Dio family estate on finishing the bookm which was ultimately released earlier this year.
Just before Christmas, another bandmate of Dio, Tony Iommi said that Black Sabbath's single "Paranoid" had such a profound impact on his career.
On the track, Iommi had this to say. "I stayed in the studio and came up with the riff for 'Paranoid,' and I waited for them to come back and said, 'We need another song.' They went, 'Oh, no.' I said, 'Yeah, but I got this idea,' and I played it to them". 
"We put it down, recorded it, and that was it", he added. "Basically, 'Paranoid' was a filler. It was done as a filler. We had never done a three-minute song before … and it's amazing what it did".
More on this report from Nova here.