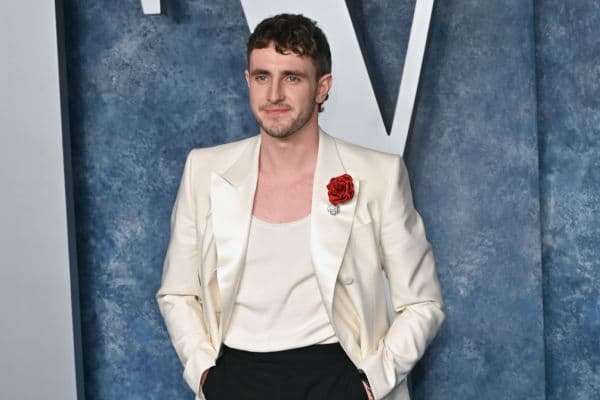 Would you like to listen to the article instead of reading it?
Gladiator star Russell Crowe has wished Paul Mescal the best of luck with his starring role in the Academy Award winner's sequel.
The sequel which will once again be directed by the legendary Ridley Scott, Kildare native Mescal star as Lucilla's son Lucius.
The original classic which arrived in 2000, also saw Crowe win an Oscar for his role as Maximus.
"loved every minute of it"
Reflecting on his time on the Gladiator set, Russell Crowe said that he "loved every minute of it".
However, he did also admit that "That wasn't actually the case at the time". 
Despite being plagued with on set disagreements and bust ups, Gladiator was a major hit at the Box Office.
"But I do like being on a period movie set. I don't know why. Stepping into those sort of costumes and those sorts of situations and stuff – it has great appeal to me", Crowe revealed.
He also added, "So, what I'm getting at is that there's a slight edge of jealousy, to have that experience that I had once". 
"that young Paul fella" – Crowe Gives Thumbs Up For Mescal
Elsewhere Russell Crowe has also wished Paul Mescal well ahead of the Gladiator sequel.
"I hear that young fella Paul is a good dude and I wish him the best of luck with it", Crowe said.
He continued, "I think where they're picking the story up from, a young Lucius, stepping into the role of emperor, I think that's a very smart idea within the world of the film that we created". 
"No doubt I'll end up having hundreds of friends of mine working on it. I already know designers and leather workers making the armour [for the movie]". 
The actor also added, "I don't want to dwell on it too much because it does take me back to a period of time when obviously I was significantly younger".
"And you know, the rose-coloured glasses of that experience now [are] perfectly crystallised".
This sequel also comes just weeks after Paul Mescal attended the Oscar's ceremony, having been nominated for Best Actor for his role in Aftersun.
Russell Crowe also spent a lot of time in Ireland last year, shooting his latest film, The Pope's Exorcist. The movie is due for release next month. More here.