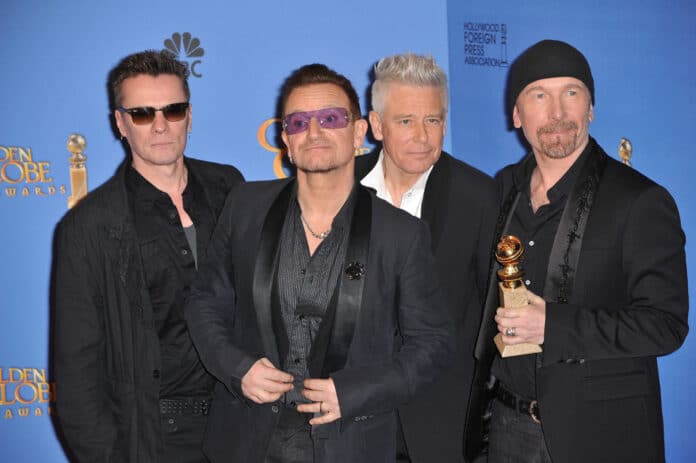 Every day at 4:30 on Radio Nova, Pat Courtenay brings you seriously addictive music news and here are the stories that matter today.
Boston.com, a news site for the city of Boston wanted to find out what the best concert was in Beantown. Respondents were clear in their answers. U2 came out on top ahead of the likes of Bruce Springsteen, Pearl Jam, Joan Baez, Tool and even The Beatles.
The concert in question was from their 1992 tour, Zoo TV. U2 played at the old Boston Garden now called TD Garden. That tour was in support for the 1991 album, Achtung Baby. You can watch a clip of the gig below and check out the setlist from the concert.
One of the reasons as to why the concert resonated so much with Bostonians was that it was held on St. Patricks Day. The Irish community is prominent in Boston and U2 on Paddy's day was the perfect celebration for the strong Irish contingent. Readers of Boston.com left many comments about the concert.
"Most Irish band in the most Irish city in the U.S. on the most Irish day."
"Patrick's Day + U2 + The Old Boston Garden … How is that NOT a great experience? 18,000 people inside, 100,000 outside in the streets looking for tickets. Had front row of the secondary stage (which was a way back from the main stage). But for 4 or 5 songs, we were feet away. Edge shook my hand after 'Angel of Harlem.' Great experience!"
"U2. Boston. Old Garden. St Patrick's Day. Fans were out of their heads. Banners, signs, and NO CELL PHONES".
"Watching U2 live at the Garden on St. Patrick's Day was an unbelievable experience — the atmosphere was electric. Boston never felt more Irish than that night." 
U2's set list
Zoo Station
The Fly
Even Better Than The Real Thing
Mysterious Ways
One
Until The End of The World
Who's Gonna Ride Your Wild Horses
Tryin' to Throw Your Arms Around The World
Angel of Harlem
Dirty Old Town
Satellite of Love
Van Diemen's Land
Bad
Bullet the Blue Sky
Running to Stand Still
Where the Streets Have No Name
Pride in the Name of Love
I Still Haven't Found What I'm Looking For
Desire
Ultraviolent (Light My Way)
With or Without You
Love is Blindness
Make sure to keep tuning into Radio Nova as we bring you seriously addictive music and music news!