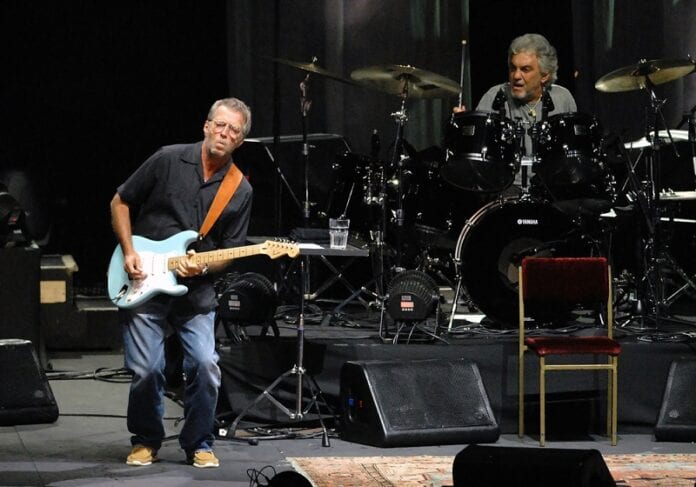 Everyday Pat Courtneay and Radio Nova bring you the best music and Seriously Addictive Music News and these are the stories making the headlines today.
Brazilian multi-instrumentalist and songwriter Daniel Santiago has released his new single 'Open World' and features a guitar solo from Eric Clapton.
The new track is from Santiago's upcoming album entitled 'Song For Tomorrow' and you can check it out below.
Clapton's influence on the song is easily recognisable. His work culminates in a trademark solo that is smooth and enjoyable.
This isn't the first time that Santiago and Clapton have joined forces. The Brazilian artist made an appearance at Clapton's 'Crossroads Guitar Festival' in 2019.
Speaking about the performance, Santiago said:
"One of the most special moments in my life was having the opportunity to be part of the Crossroads Guitar Festival, invited by one of my greatest idols, Mr. Eric Clapton."
"I was very honored to be part of such a special concert that connects people from all over the world."
Peter Hook and his son Jack Bates have teamed up with The Smashing Pumpkins guitarist Jeff Schroeder to share a cover of Joy Division and New Order track, 'Ceremony'.
The new cover is in aid of the Sweet Relief Musician Fund's new 'For The Crew' initiative.
Joined by drummer Shane Graham, the quarter recorded their parts from their own homes before piecing the audio and video together, which you can check out below.
'Ceremony' was initially written by Joy Division, however, it was unreleased at the time of Ian Curtis' passing.
The song went on to become New Order's debut single in 1981.
The group joined forces to release the cover in support of the Sweet Relief Musicians Fund's recent 'For The Crew' fundraising event, which seeks to support out-of-work touring crew members who have been hit by the coronavirus pandemic.
In other Seriously Addictive Music News, viral acoustic virtuoso Marcin has released a studio cover of Led Zeppelin's classic track 'Kashmir'.
Marcin Patrzalek's original cover of the song received over 4 million views on TikTok and was lauded by many including Tom Morello, Paul Stanley, and Vernon Reid.
Now the Polish guitarist has released a studio cover of the song and his guitar work is breathtaking.
The music video for the new studio cover sees Marcin return to the car park with his trusty Ibanez acoustic guitar.
It's a longer version than his first attempt at the song, that sees him add new pinch harmonics, tuning-peg deep dives, two-hand tap sequences, and body-spanning percussive taps.
It's an incredible watch and you can check it out below.
Speaking about his new release, Marcin said:
"I am so proud of this track, we dropped everything and decided to put full focus on creating my best music and video so far."
Stay tuned to Radio Nova as we bring you the best music and Seriously Addictive Music News.