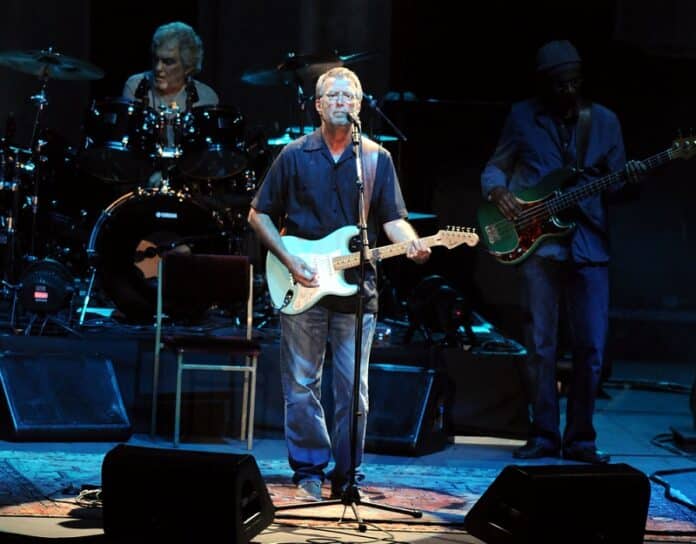 It has been revealed that Van Morrison and Eric Clapton have teamed up for a new anti-lockdown song called 'Stand and Deliver'.
The new track is released this Friday, December 4. According to Variety, all proceeds from the song will go to Van Morrison's Save Live Music campaign.
Van Morrison has previously released three other anti-lockdown songs called 'Born to be Free', 'As I Walked Out' and 'No More Lockdown'.
Speaking to the BBC, Northern Ireland's Health Minister called Van Morrison's messaging "Dangerous". Robin Swann said "I don't know where he gets his facts. I know where the emotions are on this. But I will say that sort of messaging is dangerous."
Eric Clapton, the only musician to be inducted into the Rock and Roll Hall of Fame on three occasions has said the lack of live music during the pandemic has been "deeply upsetting".
In a statement given to Variety, Clapton said "There are many of us who support Van and his endeavours to save live music; he is an inspiration. We must stand up and be counted because we need to find a way out of this mess. The alternative is not worth thinking about. Live music might never recover".
Van Morrison added "Eric's recording is fantastic and will clearly resonate with the many who share our frustrations. It is heart-breaking to see so many talented musicians lack any meaningful support from the government, but we want to reassure them that we are working hard every day to lobby for the return of live music, and to save our industry".
#VanMorrison has welcomed @EricClapton's support and praised his new track:

"Eric's recording is fantastic and will clearly resonate with the many who share our frustrations."

Join #VanMorrison and #EricClapton in this fight.
#SaveLiveMusic pic.twitter.com/TB5YMoUMps

— Save Live Music (@Save_LiveMusic) November 27, 2020
This isn't the first collaboration the two have done this year. In March, before the pandemic started, Clapton and Van Morrison played together at the 02 Arena in London to raise funds for The Royal Marsden Cancer Charity.
The new song is available to stream on Spotify, Apple Music, Deezer and Amazon Music and is available for purchase from all the usual outlets from Friday 4 December.
It was reported last week that a guitar belonging to Eric Clapton is up for sale at auction. You can read all about the iconic guitar and how expensive it is here.