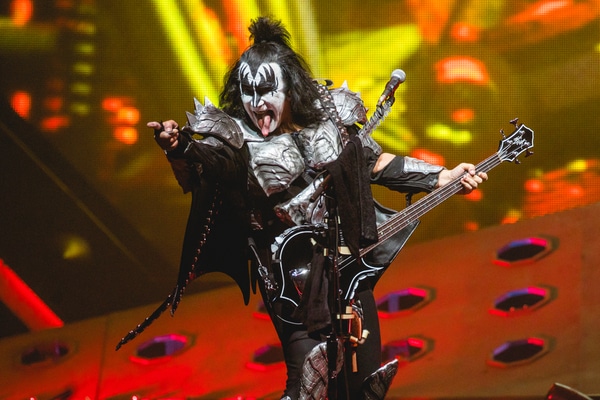 Exciting times ahead for the KISS Army as Gene Simmons is developing a museum at The Rio All-Suite Hotel & Casino, Las Vegas. According to the painted bassist, the museum will feature his own memorabilia from his time in the classic rock band.
Speaking to the Las Vegas Review Journal, Simmons said he "was in Las Vegas to start working on the Kiss museum, which is really just my collection, because I've got a half-century of Kiss stuff. I want the fans to see it."
"It's going to be breath-taking," Simmons told the outlet. "I was there the first day, as my stuff started to come in. We have three tractor-trailers full of stuff, and it's going to be spectacular. The fans are going to dig it! You can play golf, you can have your photo taken, you can take videos of yourself onstage with Kiss, and then go visit my private collection."
Fans will be able to play mini-golf on the expanded 2,000 square foot glow-in-the-dark attraction, Kiss By Monster Mini Golf, located in the Rio Hotel & Casino. As reported by the Review Journal, the museum itself will be a 15,000-square-foot space, all of it Kiss-themed. Following six years at a strip mall, the indoor course traded up for the Rio in the February of 2016. Be sure to visit the official KISS By Monster Mini Golf website for updates on the glow-in-the-dark attraction.
Currently in development, the museum is planning to open by the spring of 2022 as Simmons has been in town reviewing plans over the past several days. The bassist even stopped by at the Foo Fighters gig on December 4th, as Grohl encouraged; "can we just hear it one more time for GENE F****** SIMMONS?!". 
Simmons said "hundreds and hundreds" of items, with costumes, stage props, along with gold and platinum albums to be exhibited. Fans have seen what a part of the 72-year-old's collection contains as he previously showed off the museum-like collection inside his mansion. Added to the platinum records and leather pants, the room also includes cartoon drawings of the band, Zippo lighters and the iconic axe bass guitar he's "had to use against many a deranged fan."