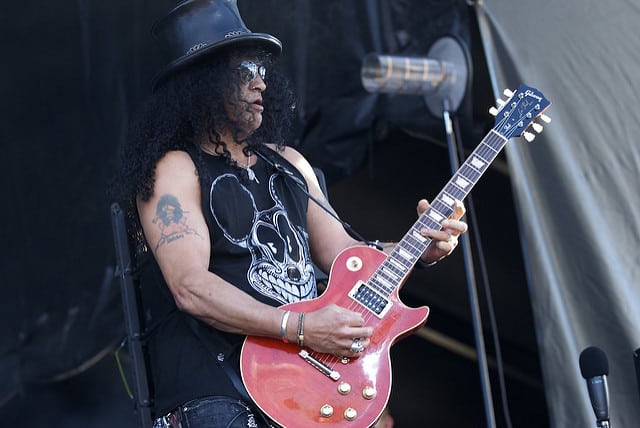 Guns N' Roses guitarist Slash has put his own twist on Sir Elton John's 'Rocket Man' in support of daredevil Eddie Braun.
Braun, who will attempt to cross the Snake River in Idaho using a rocket, had contacted Slash to seek some support but never expected him to record Sir Elton John's 1972 hit as his special theme tune. Following Evel Knievel's flawed attempt in 1974 when his parachute failed to launch, Braun hopes to cross the mile wide river using a 10,000 hp rocket.
Speaking via his Kickstarter website Braun explained how he approached Slash, "I approached the rock icon Slash, who I knew to be an Evel Knievel fan, and asked if he would be interested in being involved with my rocket project…He gave us the most awesome gift we could ever dream… a theme song!".
Slash received official  authorisation from Sir Elton John himself before reinterpreting the song alongside his band Myles Kennedy and The Conspirators at the Sunset Sound Studio's in Hollywood. Braun was extremely overwhelmed by Slash's gesture, "I'm so honoured to have been given the most epic theme song, by the most epic guitarist of all time!".
At present Braun has raised $38,000 of the target budget of $150,00 through his Kickstarter website. Donor's will receive a copy of Slash's cover of 'Rocket Man' alongside streaming footage of the live jump. The jump takes place on September 17.
Photo Credit: MikeBouchard
Click here to see Slash surprise the children of 'School Of Rock' musical.