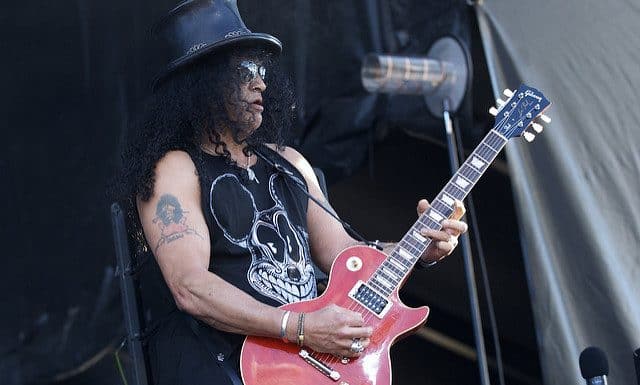 Slash is joining the Zoo, or well at least performing in one, for the Los Angeles Zoo Associations 2017 Beastly Ball.
He will be backed up on stage with Jimmy Vivino and the Basic Cable Band, the house band for Conan O'Brien, and is set for May 20th, with a virtual reality live stream.
Also appearing on the stage will be Jack Black, Grace Potter and Bernard Fowler. The Ball is being produced in partnership with Citi, Live Nation and NextVR and will be done as part of Citi's " Backstage with Citi" concert series. The Concert Series is being run by Citi for their promotional rewards programme for members.
But if you are not a member of the Citi's rewards scheme, then fear not, because NextVR are live streaming the entire event in virtual reality. Watchers on Next VR will also be able to watch VR behind the scenes footage alongside interviews with the man himself.
On the concert, Slash has spoken about his enthusiasm for the show "I'm honoured and proud to be part of the L.A Zoo's 50th Anniversary Beastly Ball. It's going to be the biggest yet and I'm really looking forward to jamming live with some good friends"
Slash is actually a board of trustee on the Greater Los Angeles Zoo Association and has a long history of supporting Animal Rights. He works with a lot of conservation groups such as the International Fund for Animal Welfare and Animal Asia. He is also known to have a large collection of exotic reptiles. Because what else would a Guns N' Roses guitarist collect but exotic reptiles.
According to Billboard the dress code for the event is "safari casual attire" and the guests are invited to stroll through the zoo after hours and get some up-close contact with some of the animals. The L.A Zoo's Special Conservation Action Network will use the proceeds to help identity and respond to urgent animal conservation issues globally. This year's Ball will honour Wallis Annenberg and the Annenberg Foundation and the National Geographic Society is set to be awarded the Tom Mankiewicz Leadership Award.
Last year's Ball reportedly raised $1.1 million, and over the last ten years the event has raised nearly $11.4 million.
Photo Cred: Mike Bouchard