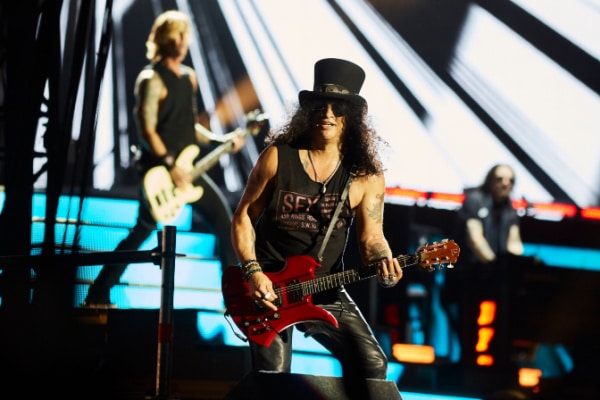 Would you like to listen to the article instead of reading it?
Slash has revealed that he is working on a 'Blues Oriented' album, which will arrive in 2024.
While he has yet to confirm a release date for this album, the Guns N'Roses guitarist stated that this LP would include "a bunch of singers".
He also added that the LP is "sort of similar to my first solo record".
The as-of-yet untitled album will the sixth record to be released by Slash, following last year's album '4', which featured Myles Kennedy and the Conspirators.
"ever need to put some guitar on something"
One of these "bunch of singers" to feature on this album will be Demi Lovato, who has become a firm friend of Slash.
"There's not really much more to tell you at this point, but [Lovato and I] definitely recorded something", Slash said.
The guitarist also spoke at length at how he and Lovato bonded as fellow recovering addicts.
"That's how we initially started sort of talking," he explained. "And she's just really cool, and she's a really intelligent and talented girl. And so, we've just been friends ever since then".
"put some guitar on something"
This comes after the Guns N'Roses' rocker featured on Lovato's rock version of her 2017 hit 'Sorry Not Sorry'. This track will feature on Lovato's album Revamped, which arrives in September.
"I told her, Hey, if you ever need me to put some guitar on something, just let me know and I'll do it", Slash continued.
"And so she hit me back about two weeks, three weeks later, and said she's got this song that she's doing a remake of and asked if I'd put some guitar on that. [Guns N' Roses] did a show in Norway and I had a day off, so I found a cool engineer and studio in Norway and just put the guitars on there. It's amazing how fast it came out".
Elsewhere, Slash also revealed two tracks on his new album are nothing alike.
"It's a completely different type of a song," Slash claimed. "So it's interesting how diverse her voice can be".
It was also recently confirmed that the upcoming soundtrack of the much anticipated Barbie film will include a contribution from Slash on guitar. More on this from Nova here.