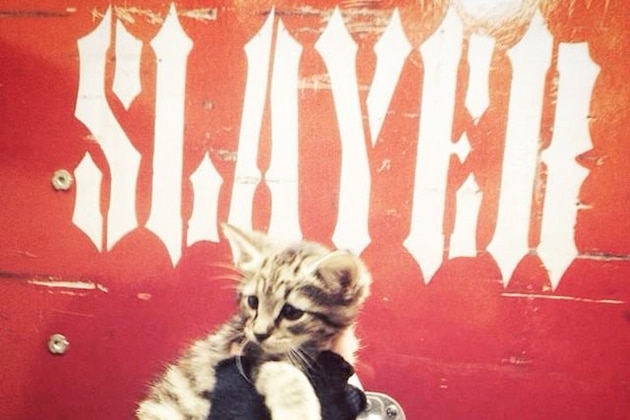 While bands are on tour anything goes, wild parties, hoards of groupies, copious amounts of illegal substances and kitten adoption.
American metal band Slayer might give the impression that they're a bunch of out of control satanists but beneath the surface they're just a softhearted group of lads.
While the band are touring around North America, they picked up an extra passenger to join them on their tour bus.
The website Nuvo reported the unlikely incident happened before a concert in Indianapolis.
Slayer issued this statement: "Kerry [King, guitarist] and some of the crew went to dinner at Kerry's favorite steak house in Indy, St. Elmo's Steak House. Afterwards, the assistant tour manager, Jess [Cortese] saw a homeless man on the street who offered up this little kitten for a dollar."
"The kitten apparently was freezing so Jess took it, slept with her in her bunk on the bus and went to the venue with her today, hanging out. One of the runners knew someone who wanted a kitten, so the little guy now has a new home where he or she currently is."
The cute but terrified looking kitten has been named 'Gypsy'.
This isn't the first cat to be awed by Slayer, check out this cat below mesmerised watching a live performance of the metal lads.