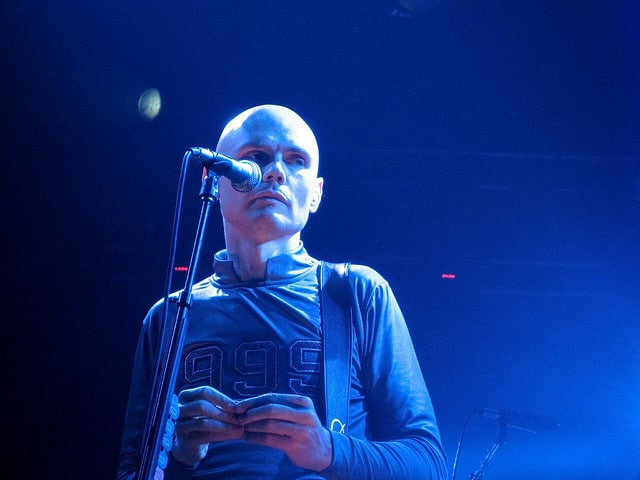 American rockers Smashing Pumpkins are out on a North American tour at the moment and they've covered a Bowie classic.
The band has had a few changes over the years, the current line-up includes the Killers' bassist Mark Stoermer and Rage Against The Machine drummer Brad Wilk.
The Pumpkins were playing at the Thalia Hall in their home city of Chicago, when they launched into the iconic David Bowie song 'Fame'.
Towards the end of their set, they started playing a much rockier, aggressive version of the seventies track, rekindling the feeling of a nineties sounding Pumpkins.
Watch the Smashing Pumpkins version of 'Fame' below.
The group are releasing a new album next week titled Monuments to an Elegy, their tenth studio record.
It will be the first album release from the rockers this year and will be followed by a second record as part of the Teargarden By Kaleidyscope mega collection, which will comprise of 44 songs.
It's the first Pumpkins LP since the departure of drummer Jimmy Chamberlin. Veteran rocker and founding member of Mötley Crüe Tommy Lee, fills in to play drums on the album.
Speaking to Gigwise about the forthcoming record, singer Billy Corgan said: "It's interesting about Monuments To An Elegy is that every song is pretty different. Some people says it reminds them of all of the Smashing Pumpkins [records] mashed together."
"I don't totally agree with that but I get what people see in that. We've got rockers on there, some sad ballads, we've even got some disco. We got it all."
Monuments to an Elegy track list:
01. Being Beige (World's on Fire)
02. Anti-Hero
03. Tiberius
04. Run to Me
05. One and All
06. Drum and Life
07. Dorian
08. Monuments
09. Anaise