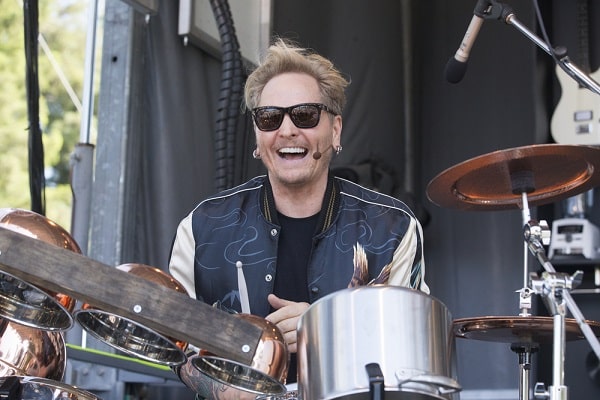 Former Gun 'n' Roses drummer, Matt Sorum spoke about his upcoming autobiography during a recent appearance on the Stop! Drop & Talk podcast. Double Talkin' Jive: True Rock 'N' Roll Stories From The Drummer Of Guns N' Roses, The Cult, And Velvet Revolver will arrive in April 2021, after delays caused by the coronavirus pandemic.
During the interview, Sorum explains that he named the autobiography after Guns 'n' Roses song, Double Talkin' Jive. Izzy Stradlin wrote the song and Sorum played it with him on the Use Your Illusion I album.
"Me and Izzy tracked that in one take," declared Sorum. "And the premise of the lyric was based around the kind of pitfalls of the music business and success. There's this undercurrent that's not pretty. And I talk very truthfully about things that I went through, from my perspective."
Sorum did not want to come across as lacking enthusiasm and insisted that he had to tell the story "the way it went for me."
"I didn't wanna come off jaded," Sorum said. "I have to tell the story the way it went for me, and I hope that people don't take it as I sound jaded or something. I just wanted to be as truthful and honest as possible, from my perspective, if that makes sense."
Sorum believes there is a misconception on musicians and people think everything is handed to them. He does not deny that he has a good life, one that he is "super grateful" for, but he does want people to know of the hard work he put in over the years.
"In the book, you can see that it was a lot of hard work. It was a lot of bruises along the way. And then, as the career goes and you get successful, stuff happens. There's, of course, the famous drug-and-alcohol s**t that is kind of like 'Behind The Music' VH1' — I mean, that all happened to me. You know, the pitfalls of rock and roll stardom and all that s**t."
Back in 2018, Sorum told the 2 Hours With Matt Pinfield podcast about his upcoming autobiography.
"It's going to be the juiciest of the juiciest of the GN'R books, for sure, plus all the other crap I've done. I'm being really truthful about everything that happened. I'm not a jaded individual; I'm not a bitter guy. There's a lot of bad s**t that went down, but I just want to tell the story straightforward, and I don't want to, like, hold back."
Sorum, who replaced Steven Adler in Guns 'n' Roses, recorded the highly successful albums Use Your Illusion I and Use Your Illusion II, both 1991, and The Spaghetti Incident of 1994. He also supported the group on the Use Your Illusion tour and can be heard on Guns 'n' Roses' Live Era: '87-'93 of 1999 and Greatest Hits from 2004. Sorum was inducted as a member of the band into the Rock And Roll Hall Of Fame in April 2012.
Sorum also drummed for Velvet Revolver, with whom he recorded two studio albums, 2004's Contraband and Libertad from 2007, and even won a Grammy for Best Hard Rock Performance with their track Slither. Sorum also released some solo work.
His new autobiography Double Talkin' Jive: True Rock 'N' Roll Stories From The Drummer Of Guns N' Roses, The Cult, And Velvet Revolver is due to release in April 2021.