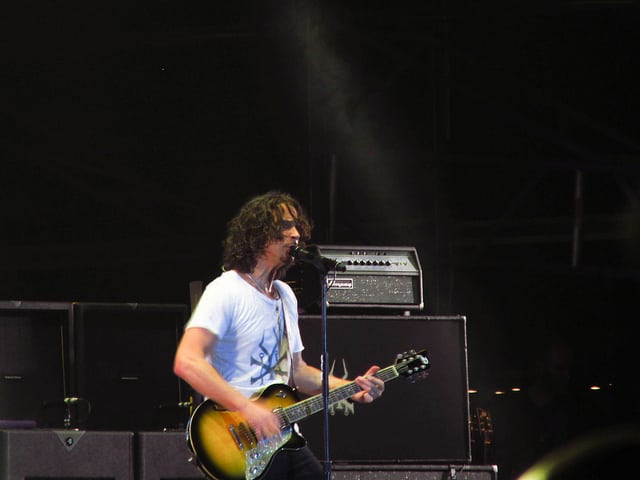 American band Soundgarden are set to release Echo of Miles:Scattered Tracks Across the Path on Vinyl as a six LP set with unique art.
The release day is set for May 19th.
Last year the band released a three disc compilation of the album.
The band's guitart Kim Thayil handpicked the track list and just like the CD edition the vinyl edition will be divided into three categories – original songs, covers and "oddities," consisting of instrumentals, demos and remixes.
Echo of Miles: Scattered Tracks Across the Path track list:
CD 1 – Originals
1. Sub Pop Rock City
2. Toy Box
3. Heretic
4. Fresh Deadly Roses
5. HIV Baby
6. Cold Bitch
7. Show Me
8. She's A Politician
9. Birth Ritual
10. She Likes Surprises
11. Kyle Petty, Son of Richard
12. Exit Stonehenge
13. Blind Dogs
14. Bleed Together
15. Black Rain
16. Live To Rise
17. Kristi*
18. Storm*
CD 2 – Covers
1. Swallow My Pride
2. Smokestack Lightnin'
3. Everybody's Got Something To Hide Except Me And My Monkey (John Peel BBC Sessions)*
4. Thank You (Falettinme Be Mice Elf Agin) (John Peel BBC Sessions)*
5. Come Together
6. Stray Cat Blues
7. Into The Void (Sealth)
8. Girl U Want
9. Touch Me
10. Can You See Me? (Friday Rock Show BBC Sessions)
11. Homicidal Suicidal (Friday Rock Show BBC Sessions)
12. I Can't Give You Anything (Friday Rock Show BBC Sessions)
13. I Don't Care About You (Friday Rock Show BBC Sessions)
14. Waiting For The Sun (Live)
15. Search And Destroy (Live)
16. Big Bottom (Live)
17. Earache My Eye (Live)
CD 3 – Oddities
1. Twin Tower*
2. Jerry Garcia's Finger
3. Ghostmotorfinger
4. Night Surf*
5. A Splice Of Space Jam
6. The Telephantasm
7. Black Days III
8. Karaoke
9. Fopp (Fucked Up Heavy Dub Mix)
10. Big Dumb Sex (Dub Version)
11. Spoonman (Steve Fisk Remix)
12. Rhinosaur (The Straw That Broke The Rhino's Back Remix)
13. Dusty (Moby Remix)
14. The Telephantasm (Steve Fisk 2014 Remix)*
15. One Minute Of Silence
* Previously Unreleased
Photo Crd: Sara