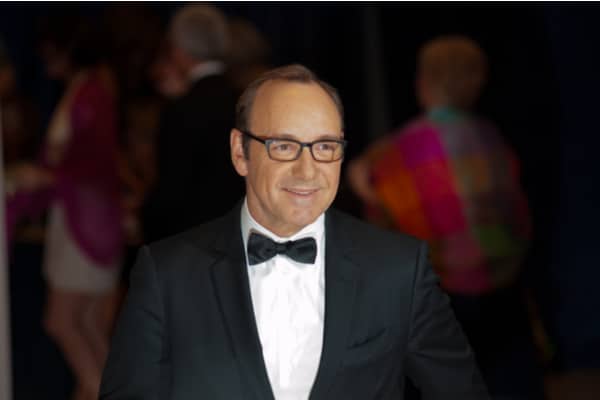 Actor, Kevin Spacey is set to make his return to acting with a small role in an independent Italian film. The actor has been facing sexual assault allegations since 2017, which he has denied, forcing him to keep a low profile. The allegations caused Spacey to lose several jobs, including his starring role in Netflix's drama series, House of Cards.
Spacey is set to briefly appear in a low-budget, Italian independent film, L'uomo Che Disegnò Dio, directed by Franco Nero. Its producer, Louis Nero confirmed that Spacey would appear in a small role in the film as a police detective. The film is about the rise and fall of a blind artist who can make accurate portraits of people by listening to their voices.
Nero said he cannot wait to get started and was "very happy" to have Spacey participate, as he considers him "a great actor".
The actor was fired from HOC when allegations emerged, and edited out of Oscar-nominated, All The Money in the World. Scenes portraying Spacey as billionaire, John Paul Getty had been re-shot with actor, Christopher Plummer taking up the role.
According to the BBC, London's Metropolitan Police have been investigating six allegations of sexual assault against Spacey in the UK between 1996 and 2013. Last month, The Hollywood Reporter said the investigation had concluded, with the findings handed to the Crown Prosecution Service. Speaking to the BBC, the CPS said they are "examining a file of evidence referred to us by the Metropolitan Police."
The Guardian report that prosecutors in LA rejected a sexual battery case in October 2019 because the accuser had died. In 2020, another case was dropped by prosecutors in Massachusetts, when his 18-year-old accuser had refused to testify, following allegations of Spacey groping him.
Spacey was accused again in 2020, when a recognised actor and one other man filed a lawsuit accusing the actor of sexual assaults in the 1980s. The known actor spoke publicly on the matter in 2017, alleging in detail of sexual advances made by the actor when he was just 14. At the time of the news breaking, Spacey issued a statement that he did not remember the encounter, although still apologised.
At least 20 young men involved at the Old Vic, the London Theatre at which Spacey was the artistic director, reported allegations of sexual misconduct against him in 2017. In 2018, Spacey was charged with indecent assault in Nantucket Island, Massachusetts for an incident involving a teenage boy. Spacey pled not guilty, and the charge was later dropped when the alleged victim withdrew their civil lawsuit.