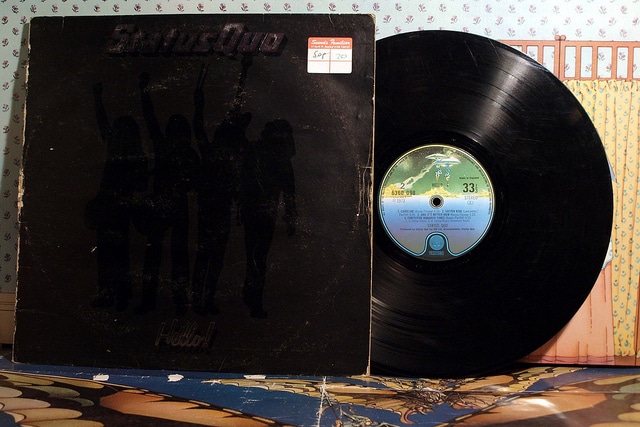 Hello! is the sixth studio album from Status Quo an it was released on the 28th September 1973. It was the first album from the band to top the UK album charts.
Following the success of Piledriver, Status Quo opted not to change a thing, unfurling the mind-numbing boogie attack of Hello!.The strategy worked, resulting in the group's first number one album and in 'Caroline', its first top-five single. Mostly, the album succeeds in spite of itself.
'Roll Over Lay Down', not immediately impressive, builds into a tizzy over the course of five minutes. It is one-upped by 'Caroline', the definitive Status Quo rock song, a not particularly hard or fast four-on-the-floor stomp saved by a massive, deceptively simple guitar hook.
'Forty-Five Hundred Times', less catchy but harder rocking, is brutally long, but is rescued by its placement as the album's closer. In between, the group, writing in some instances with coordinator Robert Young, offer up slight variations of their standard formula. Several of those, like the rickety, Beatlesque 'Claudie' and the bluesy 'Softer Ride' transcend their three-chords-and-a-riff construction enough to render them decent, memorable pop songs.
Down to the proto-Spinal Top black-on-black cover, this was the vanguard of British denim rock in 1975, and given the narrow conceptual and technical limits within which the Status Quo had to work, it has held up well, though it is certainly not for the faint of heart or attention span. Clearly the product of a band at their commercial and creative peak, Hello!wears its strengths and weaknesses well: not particularly flashy or intelligent, but without exception confident, comfortable and fun.
Tracklist:
1. Roll Over Lay Down
2. Claudie
3. Reason For Living
4. Blue Eyed Lady
5. Caroline
6. Softer Ride
7. And It's Better Now
8. Forty-Five Hundred Minutes
Photo Credit: steve