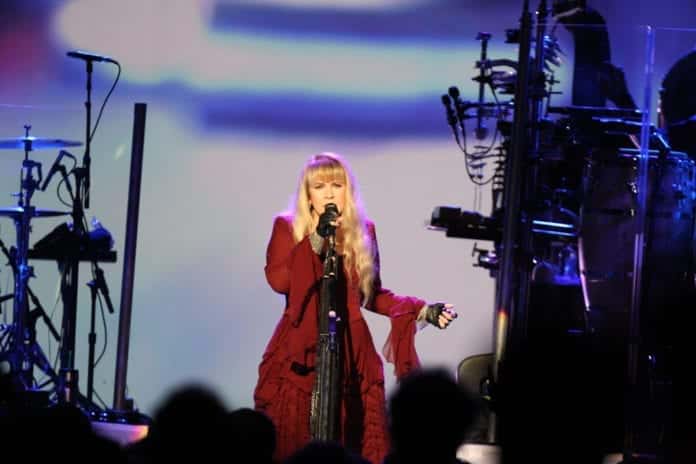 Fleetwood Mac star Stevie Nicks has re-recorded her 1982 hit, 'Gypsy' for the new Netflix thriller. The new TV series of the same name stars Academy award nominee Naomi Watts' and is directed by 50 Shades of Grey director Sam Taylor-Johnson.
It sees Watts play a therapist with a very complicated personal life.
The original track which was featured on the band's album Mirage, was the spark that inspired the new Netflix thriller. Creator Lisa Rubin wrote the pilot episode after listening to the track.
Have a listen to Nicks' re-recorded version of Fleetwood Mac's 'Gypsy' in the title sequence for Gypsy below:
Nicks readily agreed to revamp her song (with the help of Adele and Sia producer) for the show's theme. The singer revealed she had originally intended the song to be played on piano and was happy with the opportunity to record it the way she had originally envisioned.
"I'm very excited for the world to hear Gypsy more like I wrote it – on piano," the singer told Entertainment Weekly. "I am very proud of this version."
A huge Stevie Nicks fan herself, creator, Lisa Rubin finally got the chance to meet Nicks face-to-face after the song was done. "I met her after [shooting wrapped]. I think she was most excited, actually, at the idea that [Gypsy characters] Sam [Karl Glusman] and Sidney [Sophie Cookson] have a dog named Stevie because Sidney is obsessed with Stevie Nicks," Rubin recalls. "I guess Stevie is really into animals, so she loved that. It was a big deal to her. But, I was like, no, no, no don't you understand? I wrote the show listening to your song! [Laughs]. But she seemed really excited about the dog part."
The new show will debut on Netflix next week (30 June).
Photo Credit: Eva Rinaldi