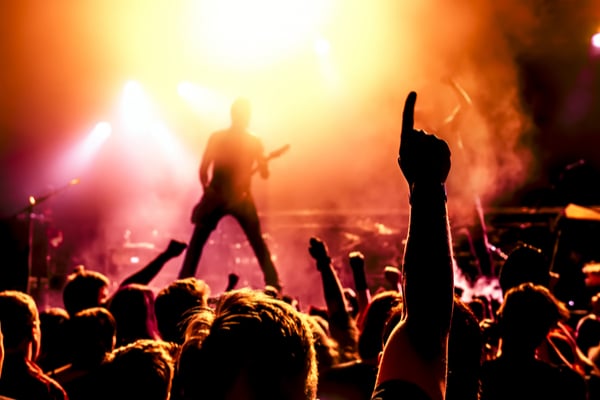 A new study suggests listening to heavy metal might actually be good for you. It found that listening to heavy metal decreases anxiety, blood pressure and heart rate. The study – conducted by hair transplant specialists Vera Clinic – asked 1,540 volunteers aged between 18 and 65 to complete non-verbal stress-eliminating reasoning tests.
For the study, participants were given a soundtrack to listen to at the same time, made up of varying Spotify playlists. They were fitted with heart rate and blood pressure monitors and asked to record their stats throughout the experiment.
The study found heavy metal to be the second most effective at reducing anxiety, behind 80s pop music. 89% of respondents reported a decrease in blood pressure and heart rates dropped by an average of 18%. The strongest reductions in anxiety were seen through the 80s pop playlist, with a 36% decrease in heart rate and 96% of respondents reporting a drop in blood pressure.
Another study has shown a direct connection between stress and hair loss in men. With this in mind, Vera Clinic wanted to find out how effective music was at reducing anxiety, and which genre helped the most.
Techno is the genre least effective at reducing anxiety, with the study finding 78% of respondents reporting an increase in blood pressure when listening to it. Classical music is often thought to be relaxing, however the Bridgerton classical music soundtrack was neither the least nor the most anxiety reducing, with respondents' heart rates decreasing by 15% on average – earning it its place halfway down the table.
Doctor Avlanmış, who led the study said the results "may seem surprising on first inspection" but make a lot of sense "medically".
Study finds 80s pop music to have the biggest effect
Speaking on the study, Alvanmis said, "'80s Pop Hits could have positive nostalgia attached to them for many people, and their upbeat, party-like sounds can induce the release of endorphins and serotonin in the brain, both increasing feelings of happiness and calm.
"In terms of heavy metal, I'd observe that angry music can help listeners process their feelings and as a result lead to greater well-being".
David Hasselhoff must have had this in mind when creating his latest single. The former Baywatch star has teamed up with Austrian duo CueStack to release a heavy metal song called Through The Night. The Hoff has been working with the pair since 2018.
The full results of the Vera Clinic study:
| | | | |
| --- | --- | --- | --- |
| Spotify playlist/Genre | Average % change in respondents' heart rate | % of respondents who recorded increase in blood pressure  | % of respondents who recorded decrease in blood pressure |
| 80's Pop – It's a Sin Soundtrack | 36% decrease | 4 | 96 |
| Heavy Metal Classics | 18% decrease | 11 | 89 |
| Noughties Pop Hits | 11% decrease | 22 | 78 |
| Modern Classical- Bridgerton Soundtrack | 15% decrease | 25 | 75 |
| Classical Chillout | 13% decrease | 27 | 73 |
| 90's RNB | 12% decrease | 36 | 64 |
| Jazz and Blues | 2% increase | 66 | 34 |
| 60's Golden Oldies | 4% increase | 72 | 28 |
| Dubstep Classics | 13% increase | 74 | 26 |
| 70's rock Anthems | 7% increase | 77 | 23 |
| Techno classics | 9% increase | 78 | 22 |