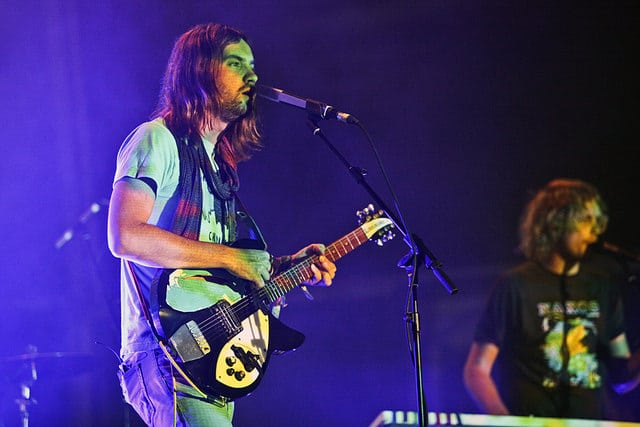 On Australian radio station Triple J, Kevin Parker from Tame Impala, Mark Ronson and a host of others performed a cover of a Queens Of The Stone Age song. The cover was part of the stations Like A Version series on You Tube where they get artists to do a rendition of a chosen song.
They covered the Queens Of The Stone Age number 'I Sat By The Ocean' which also included Kirin J Callinan and Miike Snow singer Andrew Wyatt. Kevin Parker is currently touring with Mark Ronson and his live band while they are in Australia.
Parker recently featured on Ronson's charting topping album Uptown Funk which released earlier this year. Parker appeared on a total of three tracks on the album, one of which they played at the Triple J session titled 'Daffodils'.
Parker released an album of his own earlier this month, Currents released on July 17th to critical acclaim. It saw Parker ditch his more guitar driven psychedelic sound, for a 70's inspired disco romp. In his home country of Australia, the album shot to Number One on the charts.
You can check out the video of Tame Impala's Kevin Parker and Mark Ronson performing 'I Sat By The Ocean' down below.
Photo Credit: scannerFM