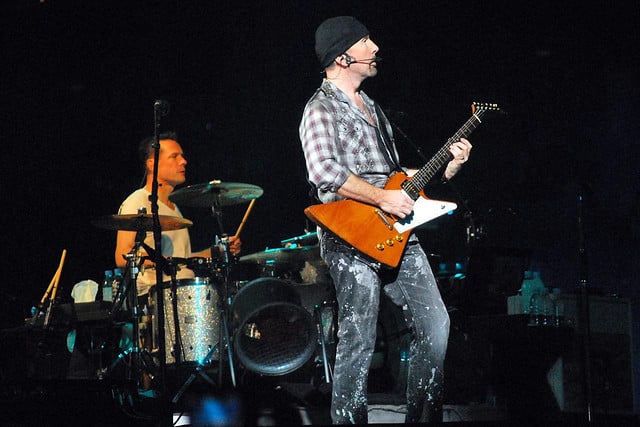 U2 tribute band Unforgettable Fire were performing at The Cutting Room in New York, when out of nowhere The Edge and Adam Clayton appeared. The crowd of around 450 people saw The Edge and Clayton perform two songs with the band.
The tribute act were there to celebrate the 20th anniversary of U2 fansite @U2, so to see two of the actual members from the band appear was an extra special treat. Supposedly, nobody involved with the event knew that half of U2 would appear at the party until moments before they walked onstage.
@U2 founder Matt McGee spoke about their appearance saying "Our whole crew has been trading texts all morning," later  saying, 'Did that really happen?'. They said they knew there was a gap in U2's schedule so they chanced their arm.
Initially it looked like it wouldn't happen "We got an e-mail saying they had other commitments and couldn't rearrange their schedules. However U2's guitar technician Dallas Schoo appeared on stage much to the delight of the crowd.
The sight of Dallas tuning a guitar was enough to make the crowd go nuts, but then Clayton and Edge walked onstage and took over for their look a likes to play 'Where The Streets Have No Name'. They posed for pictures after the song before kicking in to 'Out Of Control' .
Photo Credit: TexKap